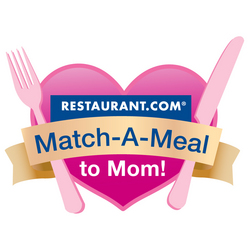 There are so many special women positively impacting our everyday lives who deserve recognition and dinner out year round
Arlington Heights, Ill. (PRWEB) April 28, 2010
Moms deserve dinner out and a memorable meal--one that is distinctively delicious--chosen for her tastes only. Whether mom is a health nut, a world traveler or the life of the party, the gift of dining is something any mom would appreciate this Mother's Day. Treating mom to the right meal means pairing her personality with "correct" cuisines for an original outing, so says the employees at Restaurant.com.
"There are so many special women positively impacting our everyday lives who deserve recognition and dinner out year round," said Cary Chessick, president and CEO of Restaurant.com. "Treating mom like a queen to a meal at a great restaurant that fills her stomach and fits her personality shows how much you really care."
Restaurant.com employees came together to match cuisines with some of the traits and interests that make their own moms so unique. Based upon Restaurant.com's extensive restaurant database and the staff's "expert" opinions, results can be universally applied for meals that appeal to moms everywhere. Restaurant.com employees present 10 suggestions to match a meal to mom:
1. The Life of the Party - "Mexican cuisine is a great fit for the fun loving mom. If she loves a good fiesta and adds spice to your life, she will definitely love the vibrant atmosphere of a traditional Mexican restaurant." -Cecilia Mayorga, Account Manager
2. The Worrywart - "If your mom is always concerned that you're not getting enough eat, a big meal with classic Italian dishes will put her worrying mind at ease. Don't forget to clean your plate!!"- Jason DeGeorge, Marketing Coordinator
3. The World Traveler - "If your mom's passport has more stamps than a post office, I would recommend cuisines that let her show off her worldly experiences. Take her to a Chinese restaurant so she can flaunt her chopstick skills or visit a German ale house so she can impress you as she maneuvers a beer stein." - Olivia Bennett, Customer Service Representative
4. The Health Nut - "Moms who always have a yoga mat in tow are a great fit for a fresh, trendy vegetarian dish. Consider checking out local restaurants that serve more than just your standard veggie fare and specialize in putting a unique spin on healthy cuisine." -Zachary Thompson, Corporate Recruiter
5. The Soulful Woman - "Cajun cuisine is a perfect match for those moms who love the smooth sounds of the blues and the spicy flavors of the south. Nothing feeds a soulful mama quite like Creole cookin'!" - Tania German, Senior Marketing Manager
6. The Nature Lover - "A mom who appreciates the outdoors will definitely enjoy the rustic tastes of authentic barbeque. Find a restaurant that serves dishes prepared on the barbie to satisfy her appetite, and better yet, make sure that restaurant has outdoor seating so she can enjoy the sights and sounds of nature as she dines." - Dan Ostrowski, CFO
7. The Sophisticate - "If your mom has a fine tuned palate and sent you to a much dreaded etiquette school consider impressing her fine tastes with French cuisine. Nothing says sophistication quite like escargot and foie gras. Just remember to keep your elbows off the table!" - Scott Grece, Sr. Human Resources Generalist
8. The All-American - "A burger and fries will win the heart of any mom who loves to watch baseball and bake apple pies. Your mom will be chanting "U.S.A.!" after you take her to a local diner that serves up American favorites." - Brian Ilc, Restaurant Consultant
9. The Sweetheart - "All mothers are caring, but some are just a cut above the rest when it comes to kindness. Treat your sweet mom's sweet tooth and skip the main course by heading straight to dessert! Find a dessert lounge or restaurant that specializes in delectable sweet treats and break the "no dessert before dinner" rule!" Matt Wallace, Business Analyst
10. The Loyal Companion- "My mom is my best friend and I love taking her to places that have a friendly atmosphere. Historically, the Irish are known for their loyalty and friendship, so an Irish pub is a great place to share a meal with the special mom, and friend, in your life." - Megan Clem, Staff Accountant
Restaurant.com has taken its employees' insights and created a "Match-A-Meal to Mom" quiz available on Facebook - http://www.restaurant.com/mom. After answering five questions about mom's personality, the quiz offers cuisine suggestions that might match her preferences. Restaurant.com will also run exclusive promotions on all gift certificates available through the site. To take advantage of the savings, consumers should visit http://www.Restaurant.com and join the free email list to receive notifications.
"No matter if your mom is near or far, you can celebrate her any day of the year by taking the time to share the memories that accompany a meal well-served," said Chessick.
###