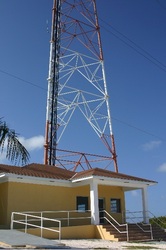 This should significantly bolster development on Rum Cay and in the Caribbean on the whole.
Miami Beach, FL (PRWEB) April 28, 2010
Wall Street financial muscle has recently made a significant statement about the viability of The Bahamas as a burgeoning destination for the construction of second homes, travel and tourism. The Paradise Is Mine company announced Wednesday that it has received a formal commitment of $30,000,000 in financing provided for additional infrastructure on the island of Rum Cay in The Bahamas to support further pre-development efforts.
Funding provided is expected to dramatically enhance the existing infrastructure on this postcard perfect Caribbean island. Rum Cay currently has all needed infrastructure for its residents. The island is the switching station for all fiber optic networks between Florida and the southern Bahamas and is home to the cellular tower providing services to the region. Service providers to the island currently include Bahamas Electricity Corporation and Bahamas Telecommunications Company (BTC).
The financing provided is from a syndicate of Wall Street and international investment firms attempting to cash in on the increased marketability of Rum Cay and the Outer Bahamas islands. William Myers, Paradise Is Mine's Chief Financial Strategist stated, "the details will be made public in the very near future when all the i's are dotted and the t's are crossed. We have has no shortage of interested financial partners. The market seems to have definitely corrected."
Rum Cay was once the home of 5000 residents in the early part of the 20th century as salt was cultivated on the island. The infrastructure on the island currently has significant capacity to support future demand. The financing provides a springboard for additional development on this 40 square mile island. The southern Bahamas as a whole is expected to benefit from the real estate boom on Rum Cay and elsewhere in the region.
"This should significantly bolster development on Rum Cay and in the Caribbean on the whole. New economic and tax incentives within The Bahamas make it an ideal target for investors" stated Charles Whitehurst, utilities consultant for the Caribbean basin.
Rum Cay has recently become the target of international hipsters, financiers and celebrities desiring to build vacation homes. "Rum Cay is becoming a chic locale for the in-crowd looking for the perfect place to get away. We have had a lot of very recognizable buyers interested in Rum Cay." said company spokesman James Witherspoon, Jr.
Island residents anticipate an impending boom as Rum Cay has moved to the forefront of an international marketing effort generated from Paradise Is Mine. "We are definitely globalizing the marketing reach for this project" Witherspoon further stated.
The island's residents anticipate tremendous growth. Rock Resorts, an international high end luxury developer, is currently developing on the island. "As it is now, this place is like heaven on earth. With or without development this island is right out of a dream." states Tom McNulty, part time Rum Cay resident.
###