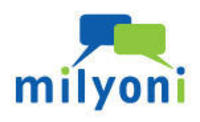 Our mission at Milyoni is to help online merchants convert Facebook fans into loyal customers and viral promoters
San Francisco, CA (Vocus) April 28, 2010
Milyoni, Inc, the leader in Facebook apps for social commerce, today announced its support of Facebook's Open Graph and the use of its pervasive connection functionality to make shopping a revolutionary experience in social networks. Several announcements last week at the Facebook F8 Developer Conference strengthen Facebook's leadership position by shaping the Internet experience for a new generation. Milyoni will rapidly take advantage of these new capabilities in its Conversational Commerce™ stores that operate within Facebook.
Milyoni (pronounced 'million-eye') will soon leverage the new connection functionality in three important ways. First, consumers will benefit from personalized offers and communications based on the companies, products and events that they "like". Previously, users could only "like" or become a fan of the company, now they can "like" individual products. Second, companies will be able to feature products that are "liked" or "recommended" in their Facebook stores and promotions so that customers can quickly identify the most popular products based on user feedback. Third, the connection features will be used extensively in an upcoming Open Graph application from Milyoni called Contextual Mapping.
"Our mission at Milyoni is to help online merchants convert Facebook fans into loyal customers and viral promoters," said David Raycroft, VP of Products at Milyoni. "The potential of Open Graph and the new connection features of Facebook to inspire and promote new social interactions are very exciting for both merchants and customers." Milyoni is pioneering new Facebook apps and features to deliver the best ROI in social media.
To learn more about Milyoni and the customers who have deployed our Conversational Commerce™ solutions, visit milyoni.com or to stay informed on the latest in Conversational Commerce™ connect with us at Milyoni Facebook page
About Milyoni:
Milyoni, Inc., based in the San Francisco Bay Area, is the developer of a new Facebook app that marries social networking with ecommerce. With over 400 million users and the number one destination on the web, Facebook offers a new opportunity to extend customer loyalty and increase revenue. Milyoni has seized the opportunity by creating the first shopping cart that operates entirely within Facebook and enhanced it with features that makes shopping seamless to the social experience. We call it Conversational Commerce™ and it delivers the best ROI in social media. Currently, Milyoni reaches over 2.7 million fans from customers including The Onion, John Elway, Equator Coffees, Cowgirl Creamery and more. Visit us at milyoni.com
###