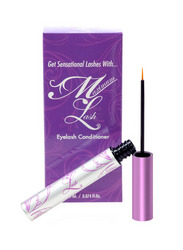 Woodland Hills, CA (PRWEB) April 28, 2010
The eyes have the power to make bold statements. They can be smoky, dreamy, romantic, or theatrical. But no matter what you are trying to convey with your eyes, the lashes can deliver the biggest impact.
Maximum Lash, a powerful new tool in today's beauty arsenal, will strengthen, fortify and enhance natural lashes to reach their maximum potential for beauty. This high performance formula eliminates the need for false eyelashes with toxic glues, extensions or irritating fibers. Similar looking results can be achieved within four to six weeks with daily use of Maximum Lash.
Packed with strengthening and nourishing ingredients and botanicals like Biotin, Green Tea, Nettles, Mulberry Root, Copper Peptides, Octapeptides, vitamins and a prostaglandin analogue, Maximum Lash is an intense conditioner that delivers striking results. Lashes will appear healthier, longer and stronger.
Distributed by International Cosmetic Associates, Maximum Lash is ophthalmologist tested. The non-irritating formula can be comfortably used on even the most sensitive eyes and by contact wearers. For those intent on keeping their extensions, Maximum Lash can boost the strength of natural lashes so there will be less damage and lash loss.
Maximum Lash is available on-line at http://www.maximumlash.com. A three-month supply retails for $48.95.
To request a product for review, please contact:
Ann Murray
murray(dot)undefined(at)gmail(dot)com
# # #