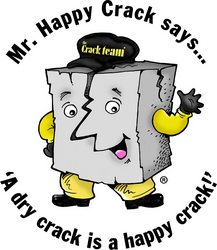 "With the rainy season upon us, now is the perfect time to repair foundation cracks before they get worse" -Bob Kodner
St. Louis, MO (PRWEB) April 28, 2010
The Crack Team, foundation repair specialists, announces a new line of exclusively-formulated DIY-products. The company, based in St. Louis, MO with locations nationwide, is celebrating its 25th year in business. The Crack Team is also known for its mascot, Mr. Happy Crack, whose slogan is, "A dry crack is a happy crack!"
Bob Kodner, president of The Crack Team, says, "With the rainy season upon us, now is the perfect time to repair foundation cracks before they get worse. Now more than ever, people are looking for affordable and effective home-repair options. Our products allow homeowners to permanently repair cracks in their walls, floors, foundations, and slabs. Plus, our exclusively-formulated fillers and sealants are conveneniently packaged in user-friendly cartridges and resealable cans. Best of all, everything you need is included in our repair kits so no expensive equipment is required."
"A cracked foundation is a common problem but rarely is it considered a structural issue", says Kodner. However, foundation cracks could leak and cause damage to a home and its belongings. "Concrete is inherently susceptible to cracking, and virtually every home in America has concrete in it, on it, or around it. Now, homeowners nationwide can benefit from our experience and expertise in foundation repair and waterproofing. Our repair products are engineered to solve a widespread household problem throughout the country", states Kodner.
Consumers can now order products directly through The Crack Team's website, http://www.thecrackteam.com, which receives about 350,000 hits per month, according to Kodner. Plus, to better assist customers, the site offers a 'Show Us Your Crack' feature, which encourages homeowners to submit photos of their concrete problems. "Our customers appreciate this feature because we can offer technical assistance right away. Our ability to 'see' their symptom beforehand gives us a clear understanding of their situation," said Kodner.
The Crack Team offers same-day replies to all inquiries, since there's usually a sense of urgency in getting a foundation problem assessed. Kodner states, "We have technical professionals ready to talk with customers. Regardless of our online capabilities, we realize there's no substitute for a one-on-one conversation with someone who can provide immediate help."
For information on DIY-products or to find the service location nearest you, visit http://www.thecrackteam.com or call 1-866-CRACK TEAM (1-866-272-2583). For more information about The Crack Team and company mascot Mr. Happy Crack, contact Bob Kodner at 314-892-0000.
For media inquiries, please contact:
Media Department
The Crack Team
info(at)thecrackteam(dot)com
# # #