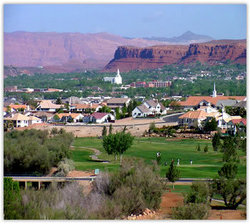 "This is a great marriage of our all natural, healthy and delicous beverages and the Ironman"
Saint George, UT (PRWEB) April 28, 2010
St. George, Utah…Dr. Tim's Juices teams up with Ironman Saint George this weekend. The prestigious Ironman race lands in sunny Saint George, Utah May 1, 2010 and Dr. Tim's Juices will be there in support of the racers. Racers will get a chance to try out Dr. Tim's Brazilian Acai juice and revolutionary ISO-5 complete hydration powered by coconut water.
The Ironman race is a grueling test of endurance as athletes compete in a 2.5 mile swim at the scenic Sand Hollow reservoir followed by a 100 mile bike ride up into picturesque Zion's National Park and ends with a full marathon that terminates in historic downtown Saint George, Utah. Saint George, Utah is located 100 miles north of Las Vegas on I-15 just over the Utah-Arizona border and was established in the late 1800's by Mormon pioneers. It is a perfect venue for this race as the course is surrounded by some of the most beautiful red rock country, pioneer heritage and one of our nation's most popular national parks. The temperatures are forecast to be in the low 70's under partly cloudy skies with water temperatures in the low 60's.
Dr. Tim's juices will be supplying their signature Brazilian Acai juice as well as a sampling of all of their products to the athletes. "This is a great marriage of our all natural healthy and delicious beverages and the Ironman" says Dr. Tim. "We will also be partnering with the Saint George Marathon and the Huntsman World Senior games this year as these events are right here in our backyard." The Ironman race makes Saint George the premier trifecta of endurance, health and longevity events in the country.
Dr. Tim's Juices is a healthy beverage company based in Saint George, Utah and specializes in all natural healthy beverages that taste good and work. Dr. Tim is a real physician and surgeon and will be on hand during the race this Saturday. ISO-5 is a coconut water sports juice that contains all 5 essential electrolytes something the triathletes will be desperately needing. PROISO-5 is a protein drink that is fused with the electrolytes of the ISO-5 and the antioxidants of Acai. Dr. Tim's Juices is a proud supplier of both ISO-5 and PROISO-5 to the Chicago Blackhawks National Hockey team.
# # #