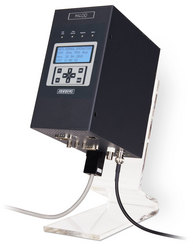 IEEE Standard Profile for Use of IEEE 1588 Precision Time Protocol in Power System Applications
Bad Pyrmont, Germany (PRWEB) April 28, 2010
Today Meinberg announced the release of a new LANTIME M-Series time server appliance for the substation automation and industrial Network market. The new LANTIME M400 comes in two different sizes, the standard model offers one extension slot in a 105x189x146mm housing, the larger M400/XL model has two slots, can hold even more outputs and its chassis has 20mm more depth (105x189x166mm)). Most options are available both as an electrical or FO interface, for example pulses, serial interfaces and IRIG timecodes.
A wide range of different synchronization sources can be ordered, the device is available with GPS, IRIG, PZF(DCF77), WWVB and MSF receivers built into the railmount housing. The MRS model offers multiple synchronization input possibilities, including GPS, NTP, PPS, 10MHz and PTP.
The M400 is one of the worlds most compact PTP (Precise Time Protocol, IEEE 1588) Grandmaster Clocks and supports the following PTPv2 (IEEE 1588-2008) features: Layer 3 (IPv4) and Layer 2 (Ethernet) communication, Multicast and Unicast mode as well as both End-to-End (E2E) and Peer-to-Peer (P2P) delay measurements. It supports the current draft version of the IEEE 1588 Power profile ("IEEE Standard Profile for Use of IEEE 1588 Precision Time Protocol in Power System Applications") that is still in the standardization process but is expected to become a part of IEC 61850. The final and approved version will be made available as a free software update. As per today the new LANTIME will be capable to synchronize IEC 61850 networks with (S)NTP clients and can offer IRIG timecode as well as 1PPS (Pulse-per-Second) outputs to IEDs and SCADA systems.
Used as a PTP Slave Clock, the M400/MRS allows to generate all output signals (IRIG, PPS, Programmable Pulses, Frequencies, NTP) when it is synchronized to a remote IEEE 1588 Grandmaster. This provides a convinient way to use cutting edge IEEE 1588 network synchronization while still being able to generate legacy signals that are required by existing and non-network/PTP capable equipment.
The integrated LC display, the four status LEDs and the powerful frontpanel menu are included in this newest member of the LANTIME M-Series family of time servers as well as the software features of the mature and proven LANTIME V5 platform: Secure Management using HTTPS, SSH and SNMPv3, NTP v2,v3 and v4 support to be compatible with more than 99% of all SNTP and NTP clients as well as an extensive and easy-to-use web interface. The LANTIME notification system can generate alarms for all important events and offers a number of different ways to send alerts to a monitoring system (SNMP traps, remote syslog messages), directly to administrators (via electronic mail) or to large wall mount displays installed in a control room or NOC.
Like other LANTIME M-Series devices, the M400 can be ordered with more than the one Ethernet interface. In the standard chassis, up to 5 network ports are available for connecting to different subnets or to provide redundant network connections. The XL chassis is available with 9 (nine!) Ethernet ports, this is the highest network port density available in a network time server appliance.
One of the key differences between Meinberg devices and their competition is that most products - including the new M400 - are built-to-order and will be individually configured and produced based on the end customers requirements. The type and number of different outputs, up to 6 different oscillator options for different stability and holdover requirements as well as the exact length of the RG58 antenna cable (up to 350m without requiring any amplification or other active components) or the Meinberg fiber optic antenna systems can be selected for each single device. That means: Individual, customized hardware with a minimum order quantity of 1 (one).
As all Meinberg LANTIME products, the M400 comes with a 3-year warranty (can be extended to 5 years) and free lifetime support (via telephone and E-Mail) as well as free firmware updates.
More detailed information about the new M400 can be found on Meinberg's LANTIME M400 product page.
###