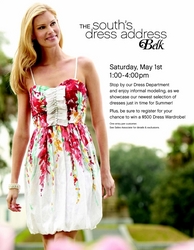 We want customers to shop first at Belk for dresses. This event celebrates the 're-launch' of our dress department and the exciting new spring and summer dresses chosen especially for our customers located throughout the South
Charlotte, NC (Vocus) April 29, 2010
Belk will showcase its unrivaled assortments of spring and summer dresses with informal modeling at all store locations from 1 to 4 p.m. on Saturday, May 1. Customers will see the latest fashion trends featuring their favorite dress brands and styles for every occasion. The models will distribute "register to win" cards offering customers a chance to win one of three $500 dress wardrobes from Belk.
"We want customers to shop first at Belk for dresses. This event celebrates the 're-launch' of our dress department and the exciting new spring and summer dresses chosen especially for our customers located throughout the South," said Kathy Bufano, Belk, Inc. president of merchandising and marketing.
Arlene Goldstein, Belk vice president of trend merchandising and fashion direction, called out some of the top fashion trends of the season, starting with anything "flirty":
"The 'ruffled dress' is a must. Ladylike elegance is yours with a frou frou frock that feels oh, so fem and flirtatious. Tiers can be placed or all over.
"Flowers are everywhere. Vibrant and sophisticated, the floral dress is a fashion staple this season, especially when paired with an elegant shrug. Floral trimmed shoes, handbags and jewelry are also irresistible.
"The season is 'white-on" with the little white dress, another key fashion essential. Denim dresses will also enhance any seasonal wardrobe and they're available in a range of silhouettes and delicious details. And, don't miss the 'culture fusion' in an ethnic-inspired trend that brings on a tribal beat with embellishments, exotic patterns and spice tones."
Get the latest Belk fashion updates and "in the moment" commentary from Arlene by following her on Twitter: twitter.com/belkfashionbuzz.
About Belk, Inc.
Charlotte, N.C.-based Belk, Inc. is the nation's largest privately owned mainline department store company. It operates 306 Belk stores located in 16 Southern states. The company was founded in 1888 by William Henry Belk in Monroe, N.C., and is in the third generation of Belk family leadership. Its Belk.com Web site (http://www.belk.com) is designed with many special features to make online shopping exciting, convenient and easy for customers. It offers a wide assortment of fashion apparel, shoes and accessories for the entire family along with top name cosmetics, a wedding registry and a large selection of quality merchandise for the home.
# # #