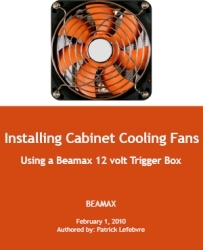 (PRWEB) April 29, 2010
Lefebvre has published his solution in a new White Paper produce with the support of audio visual specialists Beamax. Lefebvre's DIY solution is designed for console owners to assemble themselves from low-cost and readily available components.
An obvious starting point to dealing with console noise is to enclose the PS3 in a cabinet, but this can make the unit even hotter, so creating even more noise from the PS3's internal fans. Lefebvre's solution depends on keeping the console cool by removing the excess heat from the cabinet containing the PS3 and other audio visual equipment.
Lefebvre has developed a cabinet cooling system using standard computer fans and a 12 volt trigger box that activates the fans automatically when the console is powered up. The computer fans extract the excess heat from the cabinet, venting it into the room. The computer cooling fans operate well within their capacity, ensuring that they are almost silent in operation and certainly much quieter than the console's internal fans.
Lefebvre has found that his cooling system both reduces console noise and extends the life of the unit – an important consideration for intensive users. Where the PS3 is housed in the same unit as other audio visual equipment, the benefit of cooling the cabinet as a whole extends to all of the system components.
Lefebvre believes that assembling the cooling system is well within the capabilities of any competent DIYer (1). The White Paper contains complete instructions and a wiring diagram. Computer fans can be sourced from numerous online retailers and 12-volt triggers can be supplied by Beamax and a range of other audio visual manufacturers.
The White Paper 'Installing cabinet cooling fans using a Beamax 12 volt trigger box' is free to download (2) and is available now from http://www.beamax.com/ps3
(1) Local regulations in some countries might require that electrical installations are checked by a qualified electrician.
(2) The White Paper is available as a PDF document for which readers will need the free Adobe Acrobat Reader software to access.
###