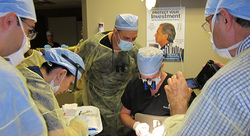 "NeoGraft is an important breakthrough for hair loss sufferers," said Dr. Bauman.
Boca Raton, FL (PRWEB) April 29, 2010
Noted hair transplant surgeon Alan J. Bauman, M.D. was the first physician to demonstrate NeoGraft, the minimally-invasive hair transplant device, at the International Society of Hair Restoration Surgery's (ISHRS) Annual Live Surgery Workshop in Orlando this month. One of the most experienced NeoGraft surgeons worldwide, Dr. Bauman lectured about the device as well as demonstrated its use on a live patient for the over 100 physicians, assistants and others who were in attendance.
The April 2010 Orlando workshop was the first live surgery demonstration of the NeoGraft device at an official International Society of Hair Restoration Surgery-sponsored event since the device made its debut in North America in 2008.
"NeoGraft has been an incredible breakthrough that benefits both hair transplant patients and physicians," said Dr. Bauman, who is certified by the American and International Board of Hair Restoration Surgery and one of the first U.S. doctors to use the device. "The ISHRS workshop was a great opportunity to educate more hair transplant doctors about this important new tool in the battle against baldness. NeoGraft delivers what savvy hair loss patients are demanding—a less invasive hair transplant that heals quickly and comfortably, and leaves no linear scar."
During the live surgery teaching demonstration, Dr. Bauman and his assistants harvested a total of 357 consecutive individual 'follicular-unit' grafts in just one hour using NeoGraft, with a very low graft transection rate of 2.2-percent--illustrating the device's efficiency and accuracy.
"This year's lectures and surgeries certainly did not disappoint," said Dr. Edwin Epstein, president of the ISHRS and workshop attendee. "The ISHRS Annual Orlando Live Surgery Workshop is the foremost physician training event in the field bringing together physicians of all skill levels from novice to advanced to share the latest information on hair loss and its treatment."
WHAT IS NEOGRAFT/FUE?
The FDA-cleared NeoGraft device helps automate the surgical removal of individual hair follicles and follicular-units one at a time, eliminating the need for doctors to remove a large strip from the back of the scalp (a procedure known as a linear-harvest Follicular Unit Hair Transplant or STRIP FUT). The targeted removal of individual hair follicles, known as "Follicular-Unit Extraction" or FUE, is a minimally-invasive microsurgical procedure that has been available for several years, but until now has been too time-consuming or too costly for many patients.
"NeoGraft is an exciting new breakthrough because it allows for the same artistic 'follicle-by-follicle' natural hair transplant results, but now with the advantage of the no-scalpel/no-stitch FUE harvest technique," Dr. Bauman said. "NeoGraft is a huge step forward in FUE efficiency and accuracy."
BETTER FOR HAIRLINE AND WALLET:
Until now, FUE-type hair transplants performed manually were labor-intensive and time consuming, which meant that patients had to undergo multiple surgeries to get the desired effect. "Now that a more efficient automated device is available, experienced FUE doctors should be able to double the number of grafts transplanted per session or shorten procedure times, saving some patients both time and money," said Dr. Bauman.
The key benefits of a NeoGraft FUE surgery:
  Least invasive hair transplant available
  No 'tell-tale' linear scar where the donor hair is harvested
  Shorter, more comfortable recovery
  No stitches to be removed
  Less activity restrictions after surgery and quicker return to athletic activity
  Very short haircuts are possible after surgery
  Transplants more than twice as many hair-grafts in a single surgery as the previous manually-performed FUE surgery in the same amount of time
  Cuts the cost of treatment by reducing the need for additional surgeries
ARTISTRY STILL REQUIRED
During his lecture, Dr. Bauman cautioned his colleagues in the industry that although NeoGraft makes hair transplant harvesting more efficient, a high degree of planning, forethought and artistic execution is still required by the physician when it comes to the transplanted hairline to ensure it's naturalness and placement of the transplanted hair follicles to achieve the desired coverage.
ABOUT DR. ALAN BAUMAN:
Alan J. Bauman, M.D., founder of Bauman Medical Group in Boca Raton, Florida, is a top U.S. medical expert on hair loss and restoration for men and women, including eyelash, eyebrow and scalp transplants, as well as low level laser therapy. Dr. Bauman was the first hair transplant surgeon to demonstrate the FUE method of hair transplantation at the International Society of Hair Restoration Surgery's Orlando Live Surgery Workshop in 2004 and developed the first commercially-available instrument specifically for manual extraction of FUE grafts, called the 'Bauman MINDEX.' Known for his expertise in female hair loss, approximately 50-percent of Dr. Bauman's patients are women. Dr. Bauman has been accepted by the International Alliance of Hair Restoration Surgeons, recommended by the American Hair Loss Association, is a Diplomate of the American Board of Hair Restoration Surgery and is a featured lecturer at many major medical conferences. Websites: http://www.baumanmedical.com and http://www.youtube.com/baumanmedical.
Follow Dr. Bauman at http://www.twitter.com/DrAlanBauman
###