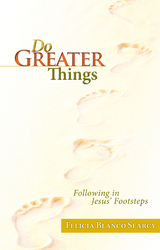 Very truly, I tell you, the one who believes in me will also do the works that I do, and in fact, will do greater works than these …
Unity Village, MO (Vocus) April 29, 2010
If the idea that "Jesus died for our sins" doesn't resonate with you, meet author Felicia Blanco Searcy. In her debut book, Do Greater Things, newly released from Unity House publishing, Searcy shares her personal struggle to accept the standard definition of Jesus as "savior," and how she reclaimed Jesus as a spiritual teacher.
"Growing up in a traditional Christian church, I could never figure out what I had done that was so horrible that Jesus had to die for my sins. So, I started looking for something different," Searcy said. "This book is my journey, and I believe it's a breath of fresh air compared to what's been traditionally presented about Jesus. My hope is that many people, for the first time, will be able to say, 'Yeah, now I understand what the gospels are saying.'"
While the suggestion to "do greater things" stems from the New Testament (John 14:12: "Very truly, I tell you, the one who believes in me will also do the works that I do, and in fact, will do greater works than these …"), Searcy's primary audience is the growing number of people who see themselves as spiritual, not religious. The book describes in easy-to-understand terms who Jesus was and what it means to follow his example.
Searcy outlines the nine spiritual practices Jesus lived and taught—vision, faith, prayer, gratitude, forgiveness, humility, community, death and service. "As we develop a daily routine around these practices, we awaken our own divine qualities and learn what it means to live in Christ Consciousness, to awaken to that highly evolved level that Jesus demonstrated, every day," Searcy explains. "I take it out of the abstract, and I give very practical suggestions on how to incorporate what Jesus taught into our daily lives. I break it to down to, how can we practice Jesus when we're standing in line at the grocery store?"
Searcy is the founding minister of Unity Church of Life in Murfreesboro, Tennessee. Unity is a spiritual movement that honors all paths to God; sees God as good and everywhere present; and affirms the spark of Divinity in each of us. In Unity, Jesus is viewed as the great example of what is possible for humankind, rather than the exception.
"Jesus' example transcends Jesus the man or the ego," Searcy said, "In fact, he said, 'It's not me, it's the Father within. Don't look to me; don't call me good. Look to yourselves.' Jesus understood the laws of nature at such a different level than anybody at that time or even since then. But we do God a disservice when we say, 'It's unique; it's once in a lifetime.' We expand the possibility of God when we say 'Wow! If Jesus can do that, then it's also possible for us.'"
Do Greater Things is 248 pages in soft cover, with a cover price of $14.95. It is available for purchase at http://www.unity.org, at amazon.com or by calling 1-800-669-0282. More about the book, including a short video with the author, is also available at http://www.feliciasearcy.com.
About the Author
Felicia Blanco Searcy is the founder of Unity Church of Life in Murfreesboro, Tennessee. Before becoming a minister, Searcy worked as a speech therapist, third-grade teacher, and adjunct instructor of education at Middle Tennessee State University. She has authored numerous articles for local and national publications and contributed the chapter "Trust the Chaos" to Sacred Secrets: Finding Your Way to Joy, Peace and Happiness. She is a regular contributor to the Unity.FM (http://www.unity.fm) radio program, Hooked on Classics.
About Unity
Unity helps people of all faiths apply positive spiritual principles in their daily lives. The organization touches millions of people each year through books, a non-denominational prayer ministry called Silent Unity, publications such as Daily Word and Unity Magazine, an online radio network at http://www.unity.fm and spiritual education classes and retreats. Unity Village, the world headquarters of Unity, is located at M-350 Highway and Colbern Road (1901 NW Blue Parkway), near Lee's Summit, Mo.
Unity House®, the multimedia publishing arm of Unity, has published spiritual books and magazines since 1903.
For more information, visit http://www.unity.org.
###