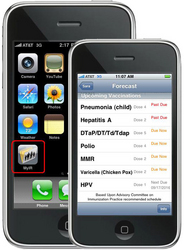 Vaccinations prevent disease and save lives. We created MyIR™ to help people of all ages know what immunizations they should have and when they should have them.
Tucson, AZ (PRWEB) April 30, 2010
Scientific Technologies Corporation (STC) has released their iPhone immunization tracking application, My Immunization Record (MyIR™). Consistent with the iPhone easy-to-use application environment, MyIR™ helps families manage their immunization records using the convenience of their phone as the tool.
"Perfect app to track immunizations! As a mom of two I find it difficult to keep track of my children's immunizations. I keep my paper forms but rely on the doctor's office to keep them current and without error. I stumbled on this app and decided to check it out. I found the app to be very thorough and user friendly and most importantly it reminded me when I needed to update my children's shots and when I was up to date. Now, if we decide to move to another state I will have my children's records on hand and in hand, and that's a relief," related an iPhone user.
STC's MyIR™ uses the recommended immunization schedules and guidelines established by the Advisory Committee on Immunization Practices (ACIP) within the Centers for Disease Control and Prevention (http://www.cdc.gov/vaccines/recs/acip/default.htm.) It allows family members to save vaccine histories and to determine if they are current, past due, or next due for a vaccination. Users of STC's MyIR™ will never have to respond again when asked "When was your last Tetanus shot" with "I think about ten years ago." Users of MyIR™ will never question if there is an existing or a new vaccine that will help protect their family members from disease.
"Vaccinations prevent disease and save lives," says Michael L. Popovich, STC CEO, "In order for them to be effective they should be administered in a given sequence and at the correct age. We created MyIR™ to help people of all ages know what immunizations they should have and when they should have them. If we can help save one life or limit the risk of vaccine preventable disease by providing information at the finger tips of mothers, fathers, college students, or grandparents, we have created a low cost product with high value impact."
MyIR™ empowers individuals with health information all should know, with what STC calls the other iQ, the "immunization Quotient."
"We at STC are focused on empowering individuals with their health data," says Todd Watkins, Senior Vice President and Managing Director of Innovation at STC, "Our next step is to link MyIR™ to state immunization registries so individuals can capture family vaccine histories that may have been given by a variety of providers. We achieve this and we have established a true health information exchange between the providers and the patient."
For more information about STC and its services, visit http://www.stchome.com, email info(at)stchome(dot)com, or call +1.520.202.3333.
###