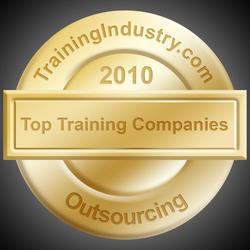 Cary, NC (PRWEB) April 29, 2010
As part of our commitment to the industry and as a service to our community members, TrainingIndustry.com is pleased to announce our "2010 Top 20 Training Outsourcing Companies" list. TrainingIndustry.com continuously reviews companies that provide training business process outsourcing (BPO) services and conducts an annual assessment to determine suppliers' experience and capabilities. This list is intended to help buy-side learning and procurement organizations searching for the right training outsourcing partner.
The 'Top 20' list recognizes the leading training outsourcing companies for their high quality services and comprehensive capabilities. All have demonstrated expertise and experience in managing major BPO engagements as well as creating a significant impact on the industry.
Click here to view the Top 20 Training Outsourcing Companies
Selection to this year's "Top 20 Training Outsourcing Companies" list was based on the following criteria:

Breadth and Quality of the training services provided
Industry visibility, innovation and impact
Commitment to the training outsourcing industry
Strength of clients
Geographic reach
Experience in serving the market
Company size and growth potential
The 'Top 20' list should help buy-side companies make informed decisions and improve the costs and quality of learning services that they procure.
"This year's list shows the continued strengthening of the leaders in the Training BPO space, and broadening of their international capabilities" said Ken Taylor, Chief Operating Officer of Training Industry, Inc.
"After a difficult 2009, these companies stand out not only for their capabilities but for their performance." said Doug Harward, Chief Executive Officer of Training Industry, Inc.
Due to the overwhelming response to this year's survey and the wide variety of needs from learning organizations, TrainingIndustry.com will be announcing a "Training Outsourcing - Watch List" in the coming months.
Because of the diversity of services included in training outsourcing engagements, no attempt is made to rank the 'Top 20'.
Click here to view the Top 20 Training Outsourcing Companies
ABOUT TRAINING INDUSTRY, INC. - TrainingIndustry.com is the world's leading portal for searching and accessing information about the training industry. With cutting-edge information organized and aggregated into several learning communities, the TrainingIndustry.com portal spotlights the latest news, articles, case studies, best practices, and product and supplier information from and about the training industry.
###