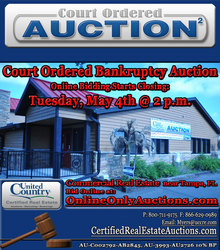 The Online Only Auction format allows buyers on a global level to determine true market value
Kansas City, MO (PRWEB) April 30, 2010
A Court-Ordered Bankruptcy Auction for former Famous Dave's BBQ Restaurant will be offered by United Country Certified Real Estate, Auctions Marketing experts in cooperation with Walter Dickinson of Tampa Bay, Inc., a Florida commercial property firm which specializes in Tampa Bay area commercial property. Myers Jackson, CAI, AARE, real estate auctioneer and broker, announced that this real estate auction for the commercial property will be facilitated utilizing the progressive and emerging bidding portal of an Online Only Auction. Real estate auctions hosted online have been growing in popularity by providing investors with the convenience of bidding and buying from anywhere in the world. The commercial property offered in this court-ordered bankruptcy auction is now open for bidding at OnlineOnlyAuctions.com.
This Tampa Bay area commercial property is located at 29000 US Hwy 19 N. in Clearwater. The 5,689 +/- sq. ft. Florida commercial property is the former site of Famous Dave's BBQ. A one story concrete block building, situated on a 50,758 +/- sq. ft. site approved for use as a restaurant and bar, offers bidders a terrific opportunity to purchase a turn-key commercial investment property in this Online Only Auction event. The property in this real estate auction has high visibility and excellent road frontage, with ingress/egress access on US HWY 19, a major thoroughfare in the Tampa Bay area.
"This prime Tampa Bay Area commercial property is located in a highly-desirable area and the real estate has frontage on US Hwy19, just over a mile from Countryside Mall and less than five miles north of the FL-60/Gulf to Bay/Drew St exit off US Hwy 19," said Myers Jackson, CAI, AARE, real estate auctioneer/broker/owner of United Country Certified Real Estate. "The Online Only Auction format allows buyers on a global level to determine true market value in this Court-Ordered Bankruptcy Auction and bid their price on a Florida commercial property with outstanding income potential."
Terms and conditions of the real estate auction, as well as detailed commercial property information is available for interested real estate investors at OnlineOnlyAuctions.com. Bidding for this Online Only Auction is now open.
Bidders must register and bid at OnlineOnlyAuctions.com. The online bidding for this Florida commercial property will start closing Tuesday, May 4 at 2 p.m. and a bidder awareness seminar will be conducted by real estate auctioneer and broker Myers Jackson Monday, May 3 at 2 p.m. The seminar will educate bidders on the real estate auction process and the auctioneer will answers questions about the terms and conditions and commercial property experts will discuss the details of the auction real estate for the May 4 Online Only Auction event. Information, maps and financing options are available by contacting United Country Certified Real Estate Auctions at 800-711-9175 or visiting OnlineOnlyAuctions.com. Register and Bid online now for this Court-ordered bankruptcy auction!
About United Country:
United Country Real Estate and Auction Services is the largest fully integrated franchise network of conventional real estate and auction real estate professionals in the United States. Based in Kansas City, Mo., the company has been an innovator in real estate marketing since 1925. United Country supports nearly 650 offices across the U.S. and in Costa Rica with a unique, comprehensive marketing program that includes one of the largest portfolios of property marketing web sites (more than 1,000 separate sites), seven proprietary real estate catalogs with a cumulative distribution of 1.5 million, an extensive, current buyer database and national advertising of properties to more than 90 million potential buyer prospects a week. United Country has been recognized by Dun and Bradstreet's AllBusiness.com as the top U.S. real estate franchise, the Wall Street Journal as a top 1 percent franchise and Entrepreneur Magazine's Franchise 500 as a top 100 global franchise. United Country Certified Real Estate: Auctions, Marketing and Brokerage Firm, conducts Live, Simulcast and Online Only Auctions for Florida real estate auctions and Georgia land auctions to include plantations, farms & acreage, recreational land, timberland, hunting land, waterfront & coastal property, luxury homes, commercial, industrial & development land and lots. Interested Bidders may bid online at any time at OnlineAuctions.com.
###