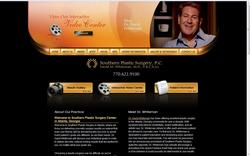 Breast implants] are not for everyone
Atlanta (Vocus) April 29, 2010
According to the National Women's Health Resource Center, 50 percent of US women know someone who has breast implants. But double board certified plastic surgeon David Whiteman, MD of Southern Plastic Surgery in Atlanta believes that, for some women, breast lift surgery may be a better alternative to improving the overall look of the breasts.
Dr. Whiteman is the founder of Southern Plastic Surgery, a practice devoted to aesthetic enhancement and cosmetic plastic surgery in Atlanta. "Breast implants are not for everyone," says Whiteman. "Many of the women that come into my practice inquire about breast implants because they desire a perkier, more lifted look. I often suggest breast lift surgery, which can achieve a higher position and more lifted look while maintaining the natural feel of the breast."
A combination of factors, such as gravity, aging, pregnancy, or dramatic fluctuations in weight, can cause skin to lose its elasticity and result in sagging or lowered breast position. With a few simple incisions and the tightening of breast tissue, breast lift surgery can help some women achieve more lifted, firmer, and more youthful looking breasts without the need for an artificial implant.
Nipple revision surgery, or the reshaping and repositioning of the areola or area of darker skin surrounding the nipple, is commonly performed during breast lift surgery. Reducing the size of the nipple or repositioning it higher on the breast can significantly enhance the overall aesthetics of the breasts.
One exciting advancement on the horizon of breast lift surgery is a procedure called Laser Bra Surgery, a technique using CO2 laser technology to tighten tissue underneath the breast, attach this tissue to the chest wall; ands essentially create an "internal bra" out of your own excess breast tissue.
Advancements in plastic surgery technology and Dr. Whiteman's years of experience in performing breast lifts have made the procedure as minimally invasive as possible and have significantly reduced the appearance of post surgical scarring.
Southern Plastic Surgery – Dr. David Whiteman
Southern Plastic Surgery was founded in 1993 by David M. Whiteman, M.D., F.R.C.S. Dr. Whiteman serves as the Chief of Plastic Surgery for Gwinnett Medical Center and is certified by the American Board of Plastic Surgery and the Royal College of Physicians and Surgeons of Canada. With a special interest in assisting women suffering from breast cancer, Dr. Whiteman created a "buddy system" for his breast reconstruction patients to discuss their journeys to recovery and also serves on the board of directors for The Sport of Giving, a women's cancer care and prevention non-profit organization.
Southern Plastic Surgery is an Atlanta-area practice specializing in cosmetic and plastic surgical procedures of the breast, body, and face. Patients considering procedures such as breast lift in Atlanta and other aesthetic and body contouring options can find more information about Southern Plastic Surgery and Dr. Whiteman at http://www.southernplasticsurgery.com.
###