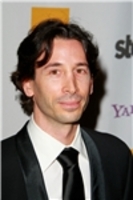 There is an intense demand by teens to want to learn and see more about some of the difficult choices that they or someone close to them may be confronted with
Los Angeles, CA (PRWEB) April 29, 2010
Day Twenty-Eight Films has tapped Ronald Krauss to write and direct the feature film "Gimme Shelter," based on a true story of a young girl's struggle with her teen pregnancy.
Krauss is an award winning writer and director known for his commercial and music video work as well his films "Puppies for Sale," starring Jack Lemmon, "Alien Hunter" starring James Spader, and the TV series "Chicken Soup for the Soul" based on the best selling books.
His latest film "Amexica" starring Annalyne Mccord is about child trafficking and is currently heating up the festival circuit. It has been selected to screen in more than a dozen festivals around the globe with a few awards already under it's belt. You can see it this weekend at the 11th Annual Malibu International Film Festival on Saturday May 1, at 2pm and also in the 13th Annual Dances With Films running June 3rd through 10th, at the Laemmle Sunset 5 in Los Angeles, CA.
In the vein of "Precious" and "Girl Interrupted," "Gimme Shelter" is based on the true story of "Apple" Bailey, a pregnant teenager turned away by her Wall Street father because of her decision to have her baby. Forced into the streets, she embarks on a desperate journey of survival to an underground shelter where a dedicated Housemother and a diverse group of girls help to change her life forever."
The project was brought to Krauss by Producer Jeff Rice of Jeff Rice Films. Recently, Jeff was executive producer on "The Courageous Heart of Irena Sendler" which grabbed a Golden Globe nomination and 3 Emmy nominations with 1 win. Rice will also be a producer on "Gimme Shelter."
"With the huge popularity of shows like MTV's "16 and Pregnant" and films like "Precious", "Juno" and several others to come out later this year, baby-themed movies have gained tremendous interest in Hollywood. There in an intense demand by teens today to want to learn and see more about some of the difficult choices that they or someone close to them may be confronted with," says Krauss.
"Shelter" will begin shooting in Michigan late Summer.
###