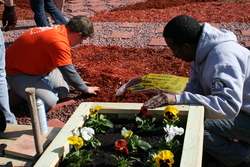 WNY AmeriCorps deserves enormous credit for the work it is doing in the East Side of Buffalo, and we are extremely glad to be part of their efforts. - Kelly Caffarelli, President, The Home Depot Foundation
Buffalo, NY (PRWEB) April 29, 2010
Western New York AmeriCorps, The Home Depot, and the Response to Love Center celebrated Earth Day 2010, April 22, 2010, with a large scale neighborhood revitalization as part of the "Keep Our Neighbors in Good & Green Homes" project on the East Side of Buffalo, renovating homes and improving the streets surrounding Felician Sister Mary Johnice's The Response to Love Center. Team Depot volunteers and WNY AmeriCorps staff and members utilized $34,000 in funding provided by The Home Depot Foundation to complete the projects, including repairing unsafe porches, installing fencing, scraping and painting homes, replacing an entire roof, cleaning debris from the street, installing security lights, planting a community garden in a vacant lot, installing a new furnace for one homeowner, and installing energy efficient doors and windows.
"This was the greatest event in the twenty-five years of Response to Love Center, because it was truly, truly a response to the poor and those in need," said Sister Mary Johnice, who has been helping to feed and clothe the disadvantaged citizens of the East Side since founding the Center in 1985, "To see them smile and to be happy, that's what life is about, that's what we're here for. We're here to make a difference in people's lives, and that happened today."
The $34,000 influx of funds into the East Side continues The Home Depot and WNY AmeriCorps' "Keep Our Neighbors in Good & Green Homes" initiatives, which has secured almost $100,000 of The Home Depot Foundation funding to date, plus countless hours of donated Team Depot volunteer time, to complete sustainable renovations on 70 homes across the City of Buffalo, NY.
Hundreds of WNY AmeriCorps members, Team Depot volunteers, contractor volunteers, and community volunteers completed approximately 1,442 hours of volunteer service, valued at $41,125, scraped and painted 4 homes, replaced an entire roof, cleaned 50 vacant lots, erected vinyl fencing to deter traffic through vacant properties, brought 3 porches up to code, installed a dozen energy efficient doors and windows, installed security lights throughout the neighborhood, and transformed one vacant lot into a community garden.
"Without the support of local The Home Depot associates and the Foundation, this project wouldn't even be on the table," said Mark P. Lazzara, CEO of WNY AmeriCorps. "Because of their generosity, the project is off the table, through the planning and preparation by WNY AmeriCorps' dedicated staff and members, and is blossoming in this neighborhood. To see service and resource in action in Sister Johnice's neighborhood is powerful."
"We are delighted to support local volunteer projects aimed at creating healthier, more stable communities where families can thrive," said Kelly Caffarelli, President, The Home Depot Foundation. "WNY AmeriCorps deserves enormous credit for the work it is doing in the East Side of Buffalo, and we are extremely glad to be part of their efforts."
Several local contractors stepped forward to stretch the funding further, by donating time and materials to the project. Dan Lipp, owner of Comfort Control Heating and Cooling, (716-435-6265) donated a full HVAC system, including a new energy-efficient furnace, ductwork, and labor for installation to one of the East Side homeowners, Buffalo Roofing (http://www.buffaloroofing.net/) donated all of the labor to put a new roof on one home, and journeyman electrician Shawn Gavin, (716-725-9355), donated skilled electrical labor to install security lights throughout the neighborhood.
"It's the least that I can do, to give back to the community that supports my business," said Lipp, "And working with WNY AmeriCorps and The Home Depot, who have a lot of experience giving back, makes it easy for a contractor like myself to get involved and make a difference."
David Fronczak, Common Council President, and Steve Stepniak, Commissioner of the Department of Public Works, were involved in the planning of the project and worked together to replace almost a half-mile of severely deteriorated sidewalks with new concrete sidewalks on Kosciuszko and Stanislaus Streets, creating a safer environment for elderly residents who depend on walking to their destination.
WNY AmeriCorps, an independent non-profit, creates opportunities for all individuals to serve, challenging citizens to turn their ideals into action and their passion into positive change. Through transformational service and civic responsibility, WNY AmeriCorps is designing a sustainable future for our nation's communities. For more information, visit http://www.WNYAmeriCorps.org.
The Response to Love Center respects the dignity of all and supporting the journey of each person. With compassionate presence, they inspire hope, healing, and peace to the poor and marginalized of society. The Response to Love Center provides a safe and welcoming place where we can learn from one another. Their invitation is extended to all regardless of race, social status or religious affiliation. For more information, visit http://www.responsetolovecenter.org.
The Home Depot Foundation is dedicated to helping families thrive by creating healthy, affordable homes as the cornerstone of sustainable communities. Our goal is for all families to have the opportunity to live in healthy, efficient homes they can afford over the long-term; to have access to safe, vibrant parks and greenspaces; and to receive the economic, social and environmental benefits of living in a sustainable community. Since its formation, The Home Depot Foundation has granted $190 million to nonprofit organizations and supported the development of more than 95,000 homes, planted more than 1.2 million trees, and built or refurbished more than 1875 playgrounds, parks and greenspaces. For more information, visit http://www.homedepotfoundation.org and follow us on Twitter @homedepotfdn.
###