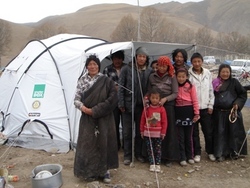 We arrived at the epicenter at the town of Jie Gu and we were astounded by the scene in front of us because 90% of buildings had collapsed.
Lakewood Ranch, Fla. (Vocus) April 29, 2010
Up to 2,000 people, made homeless by a powerful earthquake that struck Western China two weeks ago, have been given disaster relief tents from ShelterBox. ShelterBox is an international disaster relief agency which provides shelter and other life saving equipment after a disaster.
Chinese ShelterBox Response Team (SRT) member Tony Zhang travelled through mountainous terrain in freezing temperatures to get to Yushu, near the Tibetan border, which was hit by a 6.9 magnitude quake on April 14. Minutes after the earthquake struck, Zhang began preparations to line up the logistics of getting as many tents delivered to the stricken region as possible.
With the help from local volunteers and non-governmental organizations (NGOs) Zhang distributed a total of 200 disaster relief tents to the outlying Yushu villages of Ri Ma, Shang Laxiu, Xia Laxiu, Niang La and Ba Tang.
Zhang was joined by fellow ShelterBox Response Team members Andrew Gauci, of Australia, and Owen Smith, of New Zealand, worked from Xining, Qinghai province's capital.
Zhang said: "We arrived at the epicenter at the town of Jie Gu and we were astounded by the scene in front of us because 90% of buildings had collapsed."
A local NGO leader Yong Qiang took Zhang to a huge camp for survivors which was a racecourse before the quake occured. A group of villagers unloaded 100 ShelterBox tents which were given to the most needy families. The group then moved to another village which served as a distribution hub for smaller villages throughout the area.
Moments after Zhang showed the survivors how to set up the tents, they began moving their belongings into them.
Veronica Brandon Miller, executive director of ShelterBox USA, said 2010 has proven to be a tumultuous year for disasters.
"ShelterBox has responded to 10 disasters, five of which have been earthquakes, since January of this year," said Miller. "In that time we have provided shelter, warmth and dignity for close to 200,000 people."
Individual tax-deductible donations to ShelterBox USA can be made at http://www.shelterboxusa.org or via text message by sending SHELTER to 20222 for a one-time $10 donation
About ShelterBox
Since its inception in 2000, ShelterBox (http://www.shelterboxusa.org) has provided shelter and dignity following over 100 disasters in more than 70 countries, bringing the organization to the forefront of international disaster relief. ShelterBox instantly responds to earthquake, volcano, flood, hurricane, cyclone, tsunami or conflict by delivering boxes of aid. In many cases ShelterBoxes have made the difference between life and death.
Each ShelterBox supplies an extended family of up to 10 people with a tent and lifesaving equipment to use while they are displaced or homeless. The contents are tailored depending on the nature and location of the disaster, with great care taken sourcing every item to ensure it is robust enough to be of lasting value. Highly trained ShelterBox Response Teams distribute boxes on the ground, working closely with local organizations, international aid agencies and Rotary clubs worldwide.
###