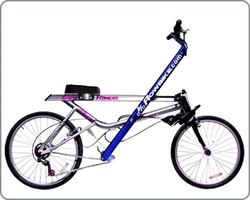 Imagine getting a full body workout while being able to enjoy the outdoors. That's the beauty of Rowbike.
Agoura Hills, CA (PRWEB) April 29, 2010
Rowbike.com has combined a total body workout with an outdoor fitness bike and the results are in: Fitness enthusiasts are flocking to Rowbike.com and sales have quadrupled this quarter from the previous quarter. Rowbike is growing by leaps and bounds and there are now thousands of Rowbike owners worldwide.
Created by Scott Olson, the inventor of Rollerblades, Rowbike gives the rider twice the workout in half the time. Imagine getting a full body workout while being able to enjoy the outdoors. That's the beauty of Rowbike. Rowbike works the upper body, core and lower body all while providing a great cardio workout. Because of the fully adjustable 7-speeds, Rowbike is very versatile and can take on significant hills. One of the reasons Rowbike has been recognized as one of the best overall fitness machines is because benefits include muscle building, toning, stretching, improved posture and an amazing calorie burn.
'Shape', 'Outside' and 'Avid Golfer' Magazine have all contributed to the success of Rowbike with extremely positive reviews. Shape Magazine's Marissa Stephenson says, "Take a ride on a cross between a rowing machine and a recumbent bike and you'll burn 50 percent more calories than you would on an ordinary two-wheeler."
In addition to print reviews, Rowbike was recently featured on The Gadget Show in the UK. Many US local news affiliates including KABC in Los Angeles, California have featured in depth pieces on Rowbike as well.
Rowbike was invented over a dozen years ago by Olson whose passion for inspiring outdoor exercise is evident: "I invented the Rowbike as an exercise machine to provide total body conditioning with the speed and excitement of a bicycle, inline skates or downhill skis. It's a fitness machine that will take you where you want to go." He says. And, Rowbike owners agree with Olson's fervor – many become so enthusiastic about their rapid transformation in health and fitness , the testimonials seem to come into Rowbike Headquarters on a daily basis.
Rowbike owners are more than customers, they become part of a family. Take for instance, Dave Olson (no relation to inventor Scott Olson) a passionate Rowbike owner; About five years ago Dave, on his own accord, designed a new cam for the Rowbike that ultimately doubled the speed of the Rowbike. The "Dave Cam" is now a part of the manufacturing process and is used on every Rowbike being shipped today. Dave donated his designs to Rowbike and was pleased he could make the Rowbike experience a better one for all customers.
Rowbike's commitment to never cut corners is possible due to their consistent innovation . Every new generation of Rowbikes have improvements small and large all due to the collaboration of staff suggestions and customer feedback. "Customer service and integrity of our product have always been equal in importance. We see Rowbike as the verb and not the noun. Owning a Rowbike is a life changing experience and we see that happen on a pretty consistent basis" says Rowbike VP of Marketing, Karen Levy.
Levy is aware that Rowbike ownership is prohibitive for some – the cost is just north of $1,000. "Rowbike is a solid, highly engineered exercise machine. There's never a question of value from customers. However, being that our mission is to expose as many people as possible to fitness, we have just rolled out a financing program. Low monthly payments have allowed our company to cast a wider net, no doubt. And, frankly we couldn't be happier about that."
For more information, please visit http://www.rowbike.com
###