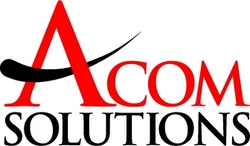 "EZPaySuite, ACOM's latest breakthrough in automated payment management...not only saves money by converting more printed checks to e-payments, but also makes it easier for vendors to become part of the automated pay cycle." –Joe Torano, Channel Div. VP
Long Beach, CA (PRWEB) April 29, 2010
ACOM announces the immediate availability of EZPaySuite, a modular software application that enables organizations to easily transition their vendors from accepting checks to ACH payments, saving time, money, and manpower. ACOM's EZPaySuite manages all laser checks, electronic/ACH payments, as well as emailed, faxed, and printed remittance notifications, with no changes to the organization's existing Sage MAS software.
EZPaySuite has an automated promotional program that motivates vendor participation and self-service, and can help organizations quickly convert 60-70% of disbursements from paper checks to ACH payments. With ACH payments commonly comprising only 15% of payments, this increase represents a fourfold increase in the benefits provided by electronic payments. Using ACH for payment processing can save $2.24 per payment (NACHA estimate) over paper checks, reduce fraud, and increase the number of timely payments.
Additionally, the simple self-service web portal to EZPaySuite encourages vendors to self-register to receive electronic deposits and instant payment notifications via email—a significant time saver for vendors. It also shifts labor-intensive tasks from internal Accounts Payable (AP) staff to the vendors' accounts receivable staff who can update their own employee contacts, profiles, and bank accounts, while gaining instant access to reports on their current and historical payment information.
"What's unique about the solution isn't its ACH capabilities, it's the success organizations see when using it to move vendors to accept ACH, so they can actually realize the savings ACH can provide. And not having to use my staff to call vendors and get them to switch was a huge time saver" noted Steve Snider, ACOM's vice president controller.
EZPaySuite ratchets up payment security as well. For the finance department, it defines and enforces the workflow for payment-approval responsibilities and processes. Activities such as check printing and positive pay generation automatically send emails to the appropriate approval managers. Besides automating timely vendor payments, the system easily handles electronic payments for travel and expense, payroll, and claims. When a payment of any type is disbursed, notifications to recipients are automatically generated and sent via secured eMail with encrypted remittance details.
The combination of EZPaySuite with ACOM's Sage-integrated document management system provides additional benefits right out of the box, with no changes to an organization's existing Sage MAS software. With electronic copies of all payment records and related documents searchable by purchase order, invoice number, account, payee name, check number, and check date, vendor inquiries can be quickly researched and answered from within the Sage system. With the eFax Notifications plug-in, copies of all payments and remittance details can be sent via fax service right from the system. Adding the MICR Printer Kit eliminates the need to print and securely store expensive pre-printed check stock.
EZPaySuite from ACOM sets a new standard for cost-efficient, automated electronic payment processing. To find out more, visit http://www.acom.com/sage or call 800-699-5758 ext. 4150.
About ACOM Solutions, Inc.
ACOM is dedicated to delivering solutions that lower cost, increase productivity, and increase customer retention. For over 27 years, ACOM has automated the document and payment processes for more than 4,000 organizations, across all industries. ACOM's solutions quickly bolt-on to an organization's existing accounting/ERP system to extend that system's capabilities and dramatically improve the efficiency by automating their manual, paper-based processes. By incorporating ACOM's solutions into their product offerings, Value-Added Resellers (VARs) can easily bring this valuable set of additional cost-saving ERP enhancements to their clients, enabling them to offer even more of a "one-stop-shop" for their clients. For more information, call 800-699-5758 ext. 4150, email or visit http://www.acom.com/channelsprw
###