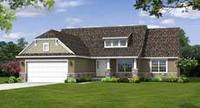 From the moment you walk into the Camden, you're met with a sense of space.
Uniontown, OH (PRWEB) April 29, 2010
A ranch home needs to be smarter than the average home design. Since it has only a single level, a proper ranch home floor plan makes the most of every square foot. Which places the new Camden plan from Wayne Homes at the head of its class.
"From the moment you walk into the Camden, you're met with a sense of space," says Maurie Jones, vice president of marketing for Wayne Homes. "Off to one side, you find a formal dining room. In front of you is a great room that connects directly to a breakfast nook, which in turn connects to the kitchen. All the main living areas flow into one another, creating a perfect environment for family and for entertaining."
And what about the private living areas? The Camden is a home that treats its occupants graciously. The master bedroom provides over 200 luxurious square feet, not including the private master bath and walk-in closet. And two secondary bedrooms, with a second bath, give the kiddos plenty of space of their own.
"One of the reasons why this home lives so big has to do with the hallways … or rather the lack of them," Jones explains. "This home is arranged so that very little space is wasted on hallways."
It's true. The Camden floor plan includes hardly any hallway space whatsoever, which allows for features such as a welcoming foyer area and a real laundry room (not just a laundry closet).
And as with all of Wayne's homes, the Camden plan can be customized to fit individual needs. The dining room can become a home office, for example, or one of the bedrooms can be turned into a hobby room. Wayne Homes is happy to fine-tune this floor plan (or any other, for that matter) so that it fits each family to a tee. How's that for smart?
About Wayne Homes
The task of constructing a home from the ground up is made less daunting thanks to Wayne Homes' four decades of experience, streamlined process and exceptional personal service. They help customers through every step -- from home-site prep and financing to choosing from numerous combinations of floorplans, features and finishes. The result is a home of extremely high quality that perfectly suits the homeowner's needs. Homes range from 1,300 to 3,500 square feet and from the $80s to $200s (plus land cost). Learn more about building a custom, energy-efficient home by dropping by one of the company's eight model home centers or by visiting WayneHomes.com
###