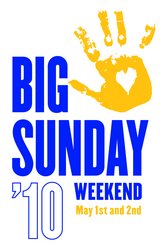 These days, there are a lot of people working hard to divide people. I love doing Big Sunday because what we're about, more than anything else, is bringing people together.
Los Angeles (PRWEB) April 29, 2010
This weekend, May 1st and May 2nd, marks the 12th anniversary of Big Sunday, http://www.bigsunday.org, the largest region-wide community service volunteer weekend in the USA, with Big Sunday expecting over 50,000 volunteers again this year. Started more than a decade ago by David Levinson, a Los Angeles-based full-time writer with just 300 volunteers, David and his team now lead the largest community building and community service event in the United States. Big Sunday continues to strive to be the largest all-volunteer weekend in America, not in response to a man-made or natural disaster, but simply because Big Sunday wants to build community, all across the region. This year there are over 500 Big Sunday projects, at more than 350 locations helping more than 250 organizations and schools all across Southern California. With fewer resources than ever before, Big Sunday will get bigger, and help even more people. To volunteer, or to find other ways to help, please visit http://www.bigsunday.org.
Big Sunday is more than a day of volunteering -- it's also about community building. Big Sunday uniquely cuts across every social barrier, bringing together thousands of people of all races, religions, ethnicities and socio-economic backgrounds from all over Southern California, proving that real issues, which effect people's day to day lives, actually do cut across racial, religious, political and ethnic boundaries, and do help to build common ground.
"These days, there are a lot of people working hard to divide people. I love doing Big Sunday because what we're about, more than anything else, is bringing people together," said Levinson.
There are volunteer opportunities for every passion, every talent, and every age, in all parts of Southern California. People volunteer individually, with their friends, families, churches, synagogues, mosques, temples, businesses, organizations or other groups. Projects are scheduled throughout the weekend to work with any schedule. Projects can last anywhere from one hour to two days. Big Sunday's motto is: Everyone Helps, Everyone Wins -- anyone, regardless of how rich or poor, how old or young, your race, religion, gender or ethnicity, can help someone else.
Big Sunday is entirely non-denominational and apolitical, and despite its massive size and scope, it is a non-profit organization where virtually every project is run by volunteers. Everything is free on Big Sunday, and volunteers of every stripe are asked only to share their time and talent. Big Sunday projects, including necessary supplies and services, are funded by private and corporate cash grants and in-kind donations. Several of Big Sunday's sponsors also encourage and empower many of their employees to volunteer on Big Sunday – Disney, Home Depot, Fox, Latham & Watkins, Wells Fargo, Ernst & Young LLP, Kaiser-Permanente, Manatt, Phelps, and Phipps, LLP, Parsons Corporation, and Proskauer, Rose LLP, among others.
Big Sunday prides itself on being a gateway to voluntarism of all kinds – Big Sunday is at the forefront of Do-It-Yourself Volunteerism. Big Sunday has some projects that a volunteer can do whenever and wherever it's convenient, anytime during Big Sunday. These projects raise money for various nonprofits and charities, which is the only way Big Sunday can help these organizations. DIY projects include: Lemonade Stands; Yard Sales; Dog Biscuit Booths and Nail Polish Booths. This will also be the inaugural year for the Big Sunday See Your City Tour: Big Sunday is about community building through community service. This year, Big Sunday is working harder than ever to show off Southern California by hosting tours of various neighborhoods by car, bus, boat, and foot. Big Sunday will bring together volunteers and people from all walks of life, including clients from various shelters, homes and other organizations on these tours as a treat, and Big Sunday hopes that people will connect with each other and with Southern California as a result of these tours.
On Big Sunday's past, people have painted, landscaped and rehabilitated needy schools, cooked and served dinner at homeless shelters, provided a "day-of-beauty" for homeless women at a women's shelter, landscaped youth centers., thrown parties for blind and disabled children, sang to lonely seniors, cleaned up trash along the Los Angeles River, bathed and readied dogs for adoption, knitted clothing for premature babies, decorated cookies for distribution to abused children, and completed home repairs at AIDS hospices, among a host of other things all over Southern California. Volunteers also took part in blood drives and free outdoor concerts at different times. People collected, sorted and gave away canned food, new and used clothes, books, furniture, as well as assembling more than 2000 gift boxes to give to homeless families, babies with AIDS, needy students, battered women, and U.S. soldiers stationed overseas. Although Big Sunday is held over one weekend, many of Big Sunday's volunteers stay actively involved throughout the year with the organizations they've helped. In addition, Big Sunday facilitates scores of Holiday Projects between Thanksgiving and New Year's Day, as well running a year-round community calendar. To volunteer, or to help in other ways, please visit http://www.bigsunday.org.
Big Sunday '10 Sponsors:

Title Sponsor – Disney
Green Sponsor – The Home Depot Foundation
CBS Outdoor
Fox Gives
Latham & Watkins LLP
City of Los Angeles
NBC Universal
Purdy
Taproot Foundation
Temple Israel of Hollywood
Time Warner Cable
Wells Fargo
Dunn-Edwards Corporation
Ernst & Young LLP
Fiji Water and POM Wonderful
Imagine Entertainment and Imagine Television
Kaiser Permanente
Manatt, Phelps, and Phipps, LLP
Max Factor Family Foundation
Parsons Corporation
Proskauer, Rose LLP
Swimpool Supply Center, Inc.
Tichenor & Thorp Architects, Inc.
Zenith Insurance Company
###