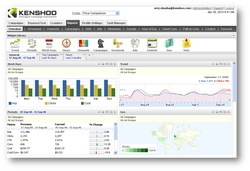 The Insight Dashboards interface is an industry game changer.
San Francisco, CA (PRWEB) April 29, 2010
Kenshoo, a global leader in online marketing optimization technology, announced today Insight Dashboards, a visual interactive reporting suite that enables agencies and advertisers to create personalized dashboards on the fly that offer actionable data for increased marketing program visibility and control. By dragging and dropping widgets into customizable dashboards, online marketers can track multiple search and social marketing channels, understand the broader media mix and decide where to focus budgets.
Kenshoo's Insight Dashboards user friendly graphical user interface and use of colorful icons, charts and graphs is designed to reduce data clutter and pinpoint trends to trigger immediate corrective action. By combining a user friendly interface with business intelligence features, campaign managers can create custom reports while looking at multiple dimensions of their data. There are now limitless different ways to cut up the data giving campaign managers the most comprehensive tool to peer deep into their activities to make the best informed strategic decisions possible.
"The Insight Dashboards interface is an industry game changer. The visualizations give us a user friendly interface in which we can dissect complex data to best make our strategic decisions. We plan on getting extensive use of this new feature and continue to be amazed by the new features that Kenshoo cooks up", said Duncan Fisher, Head of Paid Search Latitude Digital Marketing.
"As online marketing continues to become more complex, clients are reaching out to find ways to integrate data across channels, geographies and target markets," said Yoav Izhar-Prato, CEO of Kenshoo. "Insight Dashboards brings innovation in data display to streamline and optimize paid search decision making for advertisers and agencies."
Insight Dashboards is part of KENSHOO™ Search, an end-to-end SEM platform, which automates the process of building and optimizing cross channel search campaigns. KENSHOO Search was built on Kenshoo's unique Quality Management™ methodology, a holistic approach to search marketing that automates labor intensive search marketing operations and gives search markets a wide array of features in a natural workflow for greatest ease of use.
About Kenshoo
Kenshoo is the provider of KENSHOO™ Search, the end-to-end online marketing platform. KENSHOO Search's RealTime Campaigns links a company's search marketing program with their e-commerce or inventory to continually update campaigns to reflect up to date product information. KENSHOO Local, based on the KENSHOO Search platform, is the first enterprise search platform designed specifically for the 'local' market, providing significant value to agencies, resellers supporting SMBs or local franchises by saving valuable time and resources while maximizing advertizing effectiveness. Kenshoo's automation and optimization technology is being used today by ad agencies and advertisers on five continents and in dozens of languages. Customers include Omnicom, Zappos, Expedia, Hitwise, TextBooks.com, iREP, LinkShare, and many more. Kenshoo is backed by venture capital firms Sequoia Capital and Arts Alliance. http://www.kenshoo.com.
Contact:
Ari Rosenstein
Kenshoo
Tel: 1 877 536 7462
ariel(dot)rosenstein(at)kenshoo(dot)com
http://www.kenshoo.com
Monica Maron
Spicetree Communications
marketing(at)kenshoo(dot)com
###