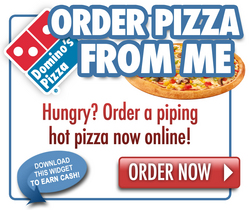 London, UK (PRWeb UK) April 30, 2010
Only a month after its launch, Domino's Cash-Rewards Widget is a raving success already. The widget has been mentioned on over 2,100 blogs and almost 25,000 Facebook users have indicated that they like Domino's in the UK and Ireland.
Domino's is well aware that its popularity completely depends on word of mouth from satisfied customers. With the new widget, which allows everyone with a blog, site or profile page to promote the brand, they have found a way of recording recommendations and rewarding fans with 0.5% of the sales they generate.
The widget is also designed to encourage social networkers to share it with their friends. Several great online magazines are happy to have the widget on their front page, not to generate extra income but because they think it's an interesting opportunity for their readers.
"The Dominos Widget has been one of the best widgets we've added to our London student forums," says Matt Gill from http://www.londonstudent.co.uk. "Students are obviously huge internet users as well as pizza eaters, so this was a match made in pizza heaven."
Al Tepper, Head of Digital at EMP Plc, is very positive about the possibilities too: "We are integrating The Domino's Widget across http://www.AtHomeMagazine.co.uk because we want to share this opportunity with our readers."
Bloggers are enthusiastic about the initiative:
"It is exciting that companies such as Domino's Pizza are starting to embrace all of the avenues available to the use of social media," says blogger Brenda from http://familylife-brenda.blogspot.com, "so I have added the widget to my personal blog and my Facebook page."
Peter Millikin, owner of the blog http://www.youcouldsave.co.uk, agrees: "The Domino's Widget shows an in-depth understanding of modern IT technologies. This is a brilliant and easy to use ordering system which can be used on numerous social platforms."
About Arena BLM
Arena BLM was launched in 2008 following an investment from Arena Media Communications, part of Havas Media. Founded in 1990 BLM is the only media agency to have won five IPA Advertising Effectiveness Awards. In 1998 it launched digital agency, BLM Quantum growing to be the UK's second biggest independent digital agency. In 2008 BLM Quantum was voted Digital Agency of the Year for the second year running. BLM also comprises of BLM Azure, a specialist in the toy and kids sector that was launched in 2002. In 2006 the company acquired Red Media, a media specialist focusing on the premium and luxury sector, to create BLM Red. Arena BLM's clients include: Bulgari, Character Options, The COI, Domino's Pizza, Haven Holidays, Jaeger, Legal and General, Mirror Group Newspapers, Pathe Films, Paul Smith, Scotts Miracle-Gro Company, Suzuki, Swiftcover Insurance, Tesco Bank, Thomas Cook, T-Mobile and Young's Seafoods.
Arena is Havas Media's fastest-growing tailor-made communications network and now operates in 8 markets: UK, Spain, Portugal, France, Mexico, Argentina, Chile and Colombia. In most markets established prior to 2008, Arena is ranked within the top five agencies. Arena's global client list include brands such as Santander, Movistar (Telefonica), Wal Mart, Bwin, Damm Group, Aero Mexico, Bebidas, Fox Channel, Paris, Bayer, Parmalat, Quala, Pritty Cola, Comunidad de Madrid (feria de artesania &Plan Fico, and Cetelem) and Mitsubishi
About Domino's Pizza:
Domino's Pizza UK & IRL plc is the leading player in the fast-growing pizza delivery market. As at 27 December 2009, there were 608 stores in the UK and the Republic of Ireland. Of these, 481 stores are in England, 45 are in Scotland, 22 are in Wales, 14 are in Northern Ireland, 45 are in the Republic of Ireland and one is a mobile unit. The first UK store opened in Luton in 1985 and the first Irish store opened in 1991.
Founded in 1960, Domino's Pizza is one of the world's leading pizza delivery brands. Through its primarily franchised system, Domino's Pizza operates a global network of more than 9,000 Domino's Pizza stores in over 60 countries. Domino's Pizza has a singular focus – the home delivery of pizza, freshly made to order with high quality ingredients.
Customers can order from Domino's via the national hotline 087 12121212 (Calls cost 10p per minute from a BT line. Calls from mobiles may vary) and online at http://www.dominos.co.uk. Orders can also be placed via SMS and to register for this service, customers should visit http://www.dominos.co.uk.
For more information, please contact:
Rich Way, BLM Quantum, Tel: 020 7182 6400, E: Rich(dot)Way(at)blmquantum(dot)co(dot)uk
Georgina Wald, Corporate Communications Manager, Domino's Pizza , Tel: 01908 580660
###