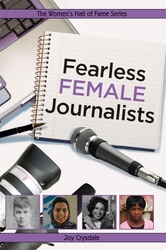 (Vocus) April 30, 2010
Journalists have often had to struggle to report their stories, including the women profiled in the new book Fearless Female Journalists. Part of the Women's Hall of Fame Series for young readers from Second Story Press, Fearless Female Journalists profiles ten women from around the world whose lives tell the story of modern journalism itself. Women have been there from the beginning of print, radio, television, and Internet journalism, and have often had to fight to be considered equal to the men in their field.
Fearless Female Journalists' stories run the gamut of journalism, from a woman who started an abolitionist newspaper in the 1800s to a woman blogging in the 21st century. Young readers will read about Katie Couric, who became the first female solo nightly anchor on national television news in the U.S. As well as Pam Oliver, working in a field dominated by men, she has been called one of the top three female sports journalists in the U.S. And pioneering print journalist and feminist Doris Anderson, who helped mobilize Canadian women in the 50s and 60s.
Also included in Fearless Female Journalists is the tragic story of murdered Russian political reporter Anna Politkovskaya, as well as Thembi Ngubane from South Africa, who recorded a radio diary and blogged about her personal fight against AIDS until her death in 2009. Not to mention Farida Nekzad from Afghanistan, who puts her life at risk daily to report on the predicament of women in her country. The amazing women featured in this book have pushed the boundaries of print, radio, television and Internet journalism and paved the way for future generations.
Author Joy Crysdale is an award-winning journalist who has worked in Canada for more than 20 years and won many international and national journalism awards, including two Geminis – Canada's TV broadcast awards. She is now a professor of journalism at Humber College and the University of Guelph-Humber in Toronto. Second Story Press is an independent publisher based in Toronto.
###