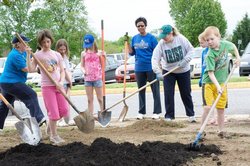 The beautification project is the result of a shared vision, commitment and dedication by our many stakeholders
Odenton, MD (PRWEB) April 29, 2010
With no school budget available to replace a 42-year old playground equipment at Waugh Chapel Elementary School, a committee of parents and volunteers created a plan that has raised needed funds, improved the school's appearance, created new learning opportunities for students and provided a way for the school to give back to the community.
Beginning on Saturday, April 24 and continuing on Saturday, May 1st, dozens of volunteers descended on the school grounds and began installing new landscaping, a brick walkway, park benches, and six Learning Gardens, one for each grade, K-5. In addition to ornamental plantings, the gardens will include fruit and vegetable plants to help provide nutritious food to less fortunate students. The effort is the direct result of the Waugh Chapel PTA's initiative to raise the funds needed to replace outdated playground equipment.
"The school's entrance has been transformed from ordinary to breathtaking," said Ms. Joyce Sims, Principal of Waugh Chapel Elementary. "The beautification project is the result of a shared vision, commitment, and dedication by our many stakeholders, including the PTA, parents, community members and businesses, school personnel and our students. Moreover, with the learning gardens, the students will not only have an opportunity to learn about different types of plants and caring for our environment, they will be afforded the opportunity to give back to others."
The PTA's Playground Committee spearheaded the effort based around a "Buy A Brick" campaign, selling bricks inscribed with donor's names for between $100 and $200 and park benches for $1,500. To date, the project has raised approximately $7,000 for the new playground equipment. PTA members then worked with local businesses to donate the plants and landscaping materials along with over 200 hours of labor to reshape the entrance to the school.
"As is evident from this past weekend's event, our PTA, school and community worked together to make this dream a reality," said Kathy Powers, spokesperson for the Waugh Chapel PTA and Playground Committee Chairperson. "It has been truly rewarding to see how the children respond as they've seen the outside of their school transformed, and today we are one giant step closer to getting our playground ."
Among the companies that donated materials or labor are Glen Burnie, MD based Include Software, Nemetschek North America, Live Green Landscape Associates of Reisterstown, MD, Belgard Hardscape, Patuxent Nursery of Bowie, MD, and Country Springs Wholesale Nurseries. Volunteers are welcome as the work on the outside of the school continues on Saturday, May 1st and a formal ribbon cutting ceremony is being planned.
###