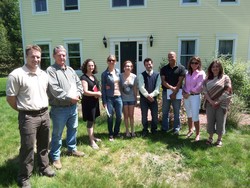 "I am so excited to be named the winner of this contest," says Amy Booth. "I have a nice home in a wonderful private setting, it just needs some TLC to get it truly ready for the market."
Hopkinton, MA (PRWEB) April 30, 2010
Amy Booth of Grafton, Massachusetts has been selected as the grand prize winner of the Metrowest, Massachusetts "Sell By Design Contest". Ms. Booth was among hundreds of homeowners in eighteen select Metrowest Massachusetts towns that submitted essays in the hopes of getting the professional design team to choose their home to beautify with a $50,000 face-lift package before listing it for sale this spring.
"I'm so happy for Amy," says Contest Coordinator Muneeza Nasrullah of Hallmark Sotheby's International Realty, who will be listing the home for sale once the renovations are complete. "This will demonstrate the importance of getting your home in market-ready condition before listing it for sale."
Over the next six to eight weeks, the Ms. Booth's Grafton home will receive landscape improvements, minor construction alterations and interior cosmetic updates provided by the professional team of designers including Weston Nurseries of Hopkinton, MA, Gilmore Building Company of Grafton, MA and Phillips Design of Concord, MA. Once completed, the renovated home will be listed for sale by Hallmark Sotheby's International Realty of Hopkinton, MA.
"We've been telling our customers for years that landscaping improvements provide a fantastic ROI for the value of your home," says Peter Mezitt, President of Weston Nurseries. "This project is the first tangible example I know of in our industry that will provide the proof."
"It's a wonderful opportunity," explains James Lipcon of Phillips Design. "Amy is going to get a fantastic re-design project that will surely increase the value of her home and make it more appealing to buyers."
"Through the good fortune of Amy Booth," says Eric Gilmore, President of Gilmore Building Company, "everyone will have a great opportunity to observe the face-lift remodeling process and the benefits that can be realized by custom designing to enhance a home's attractiveness before the selling process begins."
"In today's market, first impressions and curb appeal are more important than ever," says Erika Paul, President and Broker-Owner of Hallmark Sotheby's International Realty. "The Sell By Design Contest will demonstrate how crucial it is to get your home in the best shape possible before listing it for sale."
Video progress of the project can be viewed online at http://www.SellByDesignContest.com.
Additional sponsors of the Sell By Design Contest include: The Law Offices of Irfan Nasrullah, First Eastern Mortgage Corporation, Koopman Lumber and Hardware, Flanagan Interior Finish, Inc., Kelly's Property Services, LLC, Lorusso Stone and Omni Stone Works, Inc.
# # #