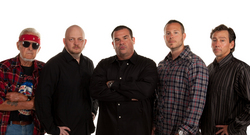 We are really counting on our Calgary listeners because we've never played a venue this large before
Tampa, Florida (Vocus) April 30, 2010
Tickets go on sale on Friday, April 30 at 12 pm ET for the first 'Bubbapalooza' live comedy show to take place in Canada. 'Bubbapalooza,' presented and hosted by syndicated and satellite radio star Bubba the Love Sponge®, will play its largest venue ever on Saturday, August 14, 2010 at Stampede Corral in Calgary, Alberta. Showtime is 9 pm.
The show fulfills the top-ranked host's promise to bring 'Bubbapalooza' to Calgary as thanks for its listeners' support of his popular radio program. The Bubba the Love Sponge® Show Bubba the Love Sponge, broadcast from Tampa, Florida and syndicated live on US terrestrial radio, also reaches a continental US and Canadian satellite radio audience on SiriusXM.
"We are really counting on our Calgary listeners because we've never played a venue this large before," said Bubba. "But we took the risk because they are so incredibly enthusiastic and supportive. So we know that this show will be a very special one."
The multi-media, adult comedy production features The Bubba the Love Sponge® Show's co-hosts and regular characters – Bubba, Ned, Brent Hatley, Manson and Spiceboy, along with 25 Cent, Tom the Treeman, Hammil, Miller and more – performing its most popular and hilarious bits, parodies, rants, stunts, stand-up and spoken word segments. Since 2007, 'Bubbapalooza' has played to sold-out theatres in Phoenix, Las Vegas, Atlantic City, Chicago, Detroit and Pittsburgh, among others. By popular demand, it is also being presented in Calgary and New Orleans this year.
Reserved seats for Bubbapalooza in Calgary on August 14 are C$19, $39, $59 and $79. For tickets, go to TicketMaster at TicketMaster Canada.
Tickets are also available on a first-serve basis at the door for a meet-and-greet with Bubba and the crew and a souvenir gift for C$75. The meet-and-greet will be on Friday, August 13 from 8-11pm MT at the Westin Hotel, located at 320 4th Avenue SW in Calgary. For more information, visit [Bubba Radio Network.
About Bubba the Love Sponge®
In addition to his top-rated, weekday morning talk and entertainment program syndicated on US terrestrial radio stations, Bubba the Love Sponge® Clem (his real, legal and trademarked name) was recruited by radio revolutionary Howard Stern to host an uncensored show on satellite radio that launched in January 2006 and is one of SiriusXM's most-listened to talk programs. The Bubba the Love Sponge® Show Bubba the Love Sponge is broadcast from Bubba's own custom-built, multimedia studio in Tampa, Florida, which is visited by a regular stream of stars from sports, entertainment, politics, and more. Bubba is also currently appearing weekly on Spike TV's TNA Impact. Complete bio and charitable information is at Bubba Radio Network.
###