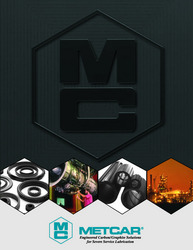 Ossining, NY (PRWEB) April 30, 2010
Metallized Carbon Corporation, a global leader in the manufacture of oil-free, self-lubricating, carbon-graphite materials, announces that it has issued a comprehensive new catalogue of its products, which include a broad range of materials that provide lubrication in even the most severe service environments.
The new catalogue provides clear, easy to read and comprehensive tables of Metcar grades available, showing their composition and physical characteristics, including strength and temperature limits. It also contains exhaustive tables illustrating the corrosion resistance properties of Metcar grades. Clear photographs and illustrations are included throughout.
The catalogue will help customers gain a deeper understanding of the materials, which are used to produce machine parts for applications where relative motion or rubbing of components must occur with low friction and low wear, where oil/grease lubricants can not be used. The new catalogue also features information on Metcar grades' unique combination of properties, and typical applications that use the materials successfully. Information on Metcar's precision machining capabilities, available design assistance, and ISO 9001-2008 registration are also provided.
Metcar products are ideally suited for mechanical parts such as bearings and seal rings for use in pumps, mixers, and meters, where the parts must run submerged in liquids such as water, gasoline, solvents, strong chemicals, liquefied gases, and heat transfer fluids. Metcar products are also excellent for bearings, seal rings and other parts that must run dry in air, hot air, steam, inert gases, reducing gases, and vacuum, Metcar electrical products can supply the low resistance, low noise, non arching and non welding characteristics needed in the most demanding electronic applications.
For a copy of the catalogue, contact Metcar at sales(at)metcar(dot)com.
About Metallized Carbon Corporation
Since its inception in 1945, Metallized Carbon Corporation has been manufacturing high-quality, dependable bearing solutions for severe operating environments. With over 50 years of Application Engineering experience, Metallized Carbon offers the field expertise and data necessary to provide The Solid Choice for Lubrication® in a wide variety of industries, supplying completely machined components as well as materials for customer machining. Metallized Carbon is ISO certified and produces the Metcar brand of solid, oil-free, self-lubricating materials.
For additional information about the company and its services, please visit us online at http://www.metcar.com or call (914) 941-3738.
# # #