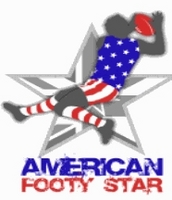 One lucky American athlete will be selected from the inaugural Dallas, Texas Footy Combines, and will win a trip to Australia and have the opportunity to be mentored by the AFL celebrity judges and be invited to the AFL "2010 Rookie Draft Camp."
Los Angeles, CA (PRWEB) April 30, 2010
Australia's premier and beloved national sport, Australian Football, known as "Footy" to millions of fans in Australia and around the world, comes to America in the form of a made for television project entitled American Footy Star, created and produced by former F.I.F.A. sports agent Miro Gladovic; who will host a U.S. based, athletic talent competition in search of the next Australian Football League (AFL) star. The kick-off event will take place at the residence of the Australian Consul-General Saturday evening, May 8th, 2010 in Brentwood, CA, to celebrate the sport of Footy while introducing Australian Football to new fans here in the United States.
Australian and American celebrities along with AFL representatives and sponsors will be on hand to show their support and love for Aussie's national pastime.
AFL CEO Andrew Demetriou has decisively mandated that American Footy Star seek out and find a great international athlete from the United States with the opportunity to potentially compete in the Australian Football League. Demetriou astutely recognized that international athletes, especially from the United States needed to be able to play in the AFL; in order for the AFL to appeal to a much broader worldwide audience.
The May 8th kick-off event will serve to unveil this summer's American Footy Star Footy Combine schedule with the first one taking place in Dallas, Texas with other cities and additional venues to be announced shortly thereafter.
One lucky American athlete will be selected from the inaugural Dallas, Texas Footy Combines, and will win a trip to Australia and have the opportunity to be mentored by the AFL celebrity judges and be invited to the AFL "2010 Rookie Draft Camp." Celebrity judges include retired Australian Football League superstar players Jason McCartney and Robert "Dipper" DiPierdomenico. Mentors will include Jimmy Bartel (Brownlow Medalist) and AFL Champ's Geelong Cats Assistant Coach Brenton Sanderson.
In conjunction with the kick-off event and this summer's Footy Combines, the producers of American Footy Star will be releasing a DVD entitled, FOOTY 101, which introduces American fans to the sport of Footy. FOOTY 101, the first tailor made Footy DVD for an American audience, will contain a comprehensive and entertaining guide to the sport, breaking down the unique set of rules and dynamics of the game. The DVD also includes highlights of the AFL Grand Final, Australia's equivalent to the Super Bowl, along with other special bonus chapters.
American Footy Star is currently taking registrations from competitors between the ages of 16-24 for the Dallas Footy Combine this summer. To register, visit http://www.AmericanFootyStar.com.
The May 8th event will be hosted by American Footy Star creator and producer Miro Gladovic and Australian actor Cameron Daddo.
About Miro Gladovic
Miro Gladovic has a diverse and accomplished background, encompassing both the film industry, as well as professional sports. Miro was the youngest soccer players agent in the world to be accredited by the world's soccer governing body, F.I.F.A. at the time of his accreditation. In the decade since, Miro has represented some of the biggest names in international soccer. As a producer, Miro has produced, written and directed numerous projects in Australia in recent years.
Miro Gladovic: http://www.imdb.com/name/nm2431740/bio
About Cameron Daddo
Cameron Daddo is a well-known Australian actor most recently featured as the Vice President in the Fox television series "24." He has also appeared in numerous episodic television series and films including "Without A Trace," "Boston Legal," and "CSI: Miami."
Cameron Daddo: http://www.imdb.com/name/nm0196592/
For more information on American Footy Star, the summer Footy Combines and the FOOTY 101 DVD, please visit http://www.AmericanFootyStar.com.
For information on the American Footy Star sponsorship development, please contact:
Yvette Morales
YM & Associates
(949) 244-9769
ymoralesy(at)aol(dot)com
# # #