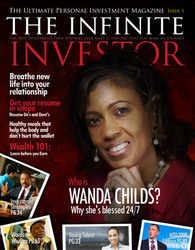 The best investment that you will ever make is the one that you make in yourself
Washington, DC (PRWEB) April 5, 2010
Investment Publishing has announced that April 24, 2010 is the official date for the launch of its new flagship magazine, The Infinite Investor. The Infinite Investor is a personal development or what they term "personal investment" magazine designed to help individuals achieve success not in a single area, but in every facet of their lives. The magazine is based on Infinites' Seven Pillars of Personal Investment, which focus on developing faith, improving health, sharpening leadership, cultivating relationships, designing success, strengthening teamwork and building wealth.
The launch party will be held at the Westin City Center Hotel, located on 1400 M Street, NW. Washington, DC 20005, and will be hosted by DC's own Taylor Thomas, news anchor for The Steve Harvey Morning Show on WHUR 96.3 FM radio.
Featured during the evening will be the introduction of Invested Minds, a non profit organization that will focus on providing youth with the character, leadership, finance, entrepreneurial and technology skills necessary to succeed in today's global economy. Another highlight will be a fashion show displaying the fall line from The Infinite Investor's new clothing line, Designs by Karyzma. With modern trends and fashions created to bring sophistication, style and distinction back to the business environment.
The event will also feature many local and national sponsors such as The Aveda Institute, Cultural Communications Inc., Traci Lynn Fashion Jewelry, Exclusively Styled and Catrice Shoes. The Infinite Investor has also partnered with The Young and Powerful Group, a collective group of future leaders who have dared to break down the walls of traditional paths to success.
It promises to be a night filled with entertainment, networking, and most importantly, information on how to get your hands on the resource that will put you on the path to total success.
The event is free of charge, but you must register to attend. If you are interested in attending, please log onto http://www.infinteinvestor.com/launch to RSVP by April 15th.
For more information about The Infinite Investor please email info@infiniteinvestor.com
For more information about the launch party please contact Tranquil Management at info@tranquilmanagement.com.
About The Infinite Investor
http://www.infiniteinvestor.com
The Infinite Investor seeks to enrich and empower its readers by sharing the foundational principles of achievement that will result in continual success in every area of their lives. Our mission is geared to helping people grow in their: faith, health, leadership, relationships, success, teamwork and wealth. Through these Seven Pillars we are showing everyday individuals that investing is so much more than dollars and cents, and that the best investment that you will ever make is not in a stock or mutual fund. The best investment that you will ever make is the one that you make in yourself.
###