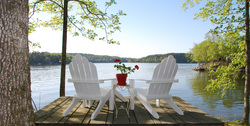 Appalachian Porch...from our porch to yours
Birmingham, AL (PRWEB) April 29, 2010
Appalachian Porch is now on the Web. Nestled in the foothills of the Appalachians in Northern Alabama, lies Appalachian Porch, the shop for high quality adirondack furniture.
Appalachian Porch started the Adirondack Furniture business on accident. After several years of everyone having to take turns sitting in the old Adirondack chair at the owner's river cabin, he had the idea to build more to accomodate his entire family. After making several adjustments, the first Appalachian Porch Adirondack chair was built. The idea caught on quickly, and soon the entire product line was in the works.
Whether looking for adirondack chairs, loveseats, ottomans, coffee tables, side tables or outdoor porch swings, Appalachian Porch can fulfill all adirondack patio furniture needs.
All Appalachian Porch adirondack furniture is handcrafted using weather resistant pressure treated pine to ensure many years of enjoyment. Made to withstand the elements, outdoor adirondack furniture is the perfect solution for pool area lounging and garden seating. The attractive design adds flair and functionality to porches, patios and decks. Whether placed indoors or outside, adirondack furniture adds beauty without sacrificing comfort.
To allow for each customers individual designing tastes, as well as being able to offer economical prices, all pieces are shipped raw and unfinished. For unique flair, custom wood branding is available in several design options.
For ideas on giving Adirondack patio furniture a personal touch, visit Appalachian Porch's Design Gallery page. To recreate the styles shown, see the Design How-To page for easy step-by-step instructions.
Why buy Adirondack furniture from Appalachian Porch? Not only does Appalachian Porch sell high quality outdoor furniture. Replenishing the natural resources used is a high priority, which is why Appalachian Porch has partnered with American Forests. A portion of each sale is donated to American Forests' Global ReLeaf Fund. For every $1 donated, a tree is planted. It's Appalachian Porch's way of giving back to the environment.
###