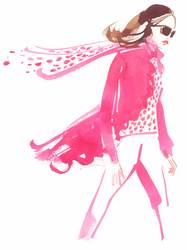 Dallas, TX (PRWEB) April 30, 2010
Leggiadro, the fashion brand known for its ultra-luxe sportswear, announces the opening of their twelfth store in Dallas' Highland Park Village. The Dallas boutique will be formally unveiled to the public via a champagne reception hosted by Creative Director Ann Ross and guest of honor Alinda Wikert on May 11th from 6:00 to 8:00pm.
"I've always loved that women in Texas use so much color in their wardrobes," said Creative Director, Ann Ross. "That is a big part of why I'm so excited to bring our brand to Dallas. I see a natural fit between the Leggiadro collection and the Dallas lifestyle."
Leggiadro's sportswear is made using luxurious fabrics sourced in Italy. Extraordinary attention, from conception to finishing, is paid to every piece in the collection. These details make the lifestyle brand a perfect fit for the sophisticate who wants clothes that travel well, taking her seamlessly from boardroom meetings and charity luncheons to evening cocktails.
"We are thrilled to be opening our newest boutique in Highland Park Village and look forward to building closer relationships with our Dallas customers," stated Brooks Ross, Leggiadro's President.
Leggiadro welcomes their clients at boutiques in New York, Pam Beach, Nantucket, Naples, Americana Manhasset, Melrose Place, Charleston, Palm Desert, Ocean Reef Club, Montecito, Sarasota and, now, Dallas.
Pre-interview opportunities and hi-resolution photography are available to media upon request. To attend the opening, please RSVP prior to May 5th to da (at) leggiadro (dot) com.
Following the opening, the Dallas boutique's hours will be Monday through Saturday 10:00 am to 6:00 pm. For more information, please visit the company website at http://www.leggiadro.com.
Leggiadro is a vertically integrated retailer known for its ultra-luxe sportswear. Founded in 1985, the family owned business has a loyal following of discerning women who appreciate the uncompromised fit, comfort and attention to detail. The limited edition collections are sold in twelve Leggiadro boutiques nationwide. For more information visit, http://www.leggiadro.com.
###