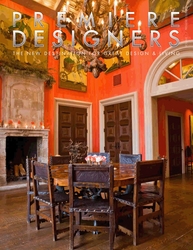 Premiere Designers and Premiere Designers Magazine is at the forefront of what is happening today in the magazine and design world. We are all about creating a fantastic experience for our visitors and readers.
Santa Fe, New Mexico (PRWEB) April 4, 2010
People are discovering that the new Premiere Designers Magazine is unique in that it covers many aspects of luxury living beyond great design. A variety of topics are covered such as top Designers, luxurious design projects, Eco chic design, gardens, wine and wineries, cuisine, travel and great destinations around the world, luxury homes, unique antiques, fine art, art galleries, artisans, the design process, fab online design sites to see, unusual shops to visit, and luxe finds.
There is even a Macho section that covers luxury items that men love. According to Founder, Ann Shogren, "We are also planning to add some editorial about personal luxury items such as jewelry and fashion. We are very excited about the response to our first issue that shows us gaining readers every week."
Now is the time to check out the new magazine that just launched on March 9th, 2010. Subscriptions are currently waived and anyone can read it, anytime 24/7, at no cost. You can read it, share it, print it and email any part of the magazine you like. The new magazine is eco-friendly because it is digital and no paper is used unless you choose to print out a page. The larger font is easily legible online and you can click through to the subject's website on many articles and advertisements to get more information immediately.
How cool! Fun, eco and time efficient to get your latest luxury living and design fix anywhere, anytime.
The Premiere Designers website launched in August of 2009 and has seen exponential growth of savvy design enthusiasts and visitors who come back often and peruse over $40 million dollars worth of luxury design furnishings, art and antiques."
Numbers? Do you want numbers...? Statistics show that this new site is showing almost unprecedented numbers of page views and file hits per affluent visitor. March of 2010 shows the site with over 220,000 visitors, 14 Million file hits, an average of 45.23 minutes per visit* and 29 page views per visit* ( *according to alexa.com 04.02.10). This is staggering client engagement for the luxury consumer. It is interesting that no other luxury website can boast client engagement like this website. Premiere Designers is not telling exactly what makes up their secret formula, but it is really working. Their growth chart looks like a rocket to the moon.
Inquiring Marketers want to know...Who are these visitors and readers that make up the client base for Premiere Designers? According to Premiere Designers own surveys of website subscribers, they are the younger part of the affluent consumer base. Premiere Designers finds that their subscribers are internet savvy, really well educated ( almost 100% are college educated and a large percentage have done post graduate work) well healed (have incomes over $250,000), they also have disposable income and time to cruise the internet while they are at work.
"We have captured the interest of a very important consumer market segment and we intend to fulfill the promise of the best design and living venue online. Premiere Designers and Premiere Designers Magazine is all about collaboration, sharing and finding the best to present to it's readers who take time to visit. "
Premiere Designers has a very unique philosophy of collaboration and working with all elements of the design and luxury living segment to present the most interesting design and living ideas out there. In the spirit of collaboration, Premiere Designers Magazine even runs advertisements for competitor digital magazines like Nesting Newbies and Lonny Magazine.
Our Founder, Ann Shogren, feels that "Premiere Designers and Premiere Designers Magazine is at the forefront of what is happening today in the magazine and design world, it only makes sense to help everyone find great new sources for design and living. We are all about creating a fantastic experience for our visitors and readers." She explains, "We hope to become THE source that people go to first for information on design, Designers, Architects, destinations, wine, antiques, fine art... you name it. If it's part of great living, we want to be involved and showcase it to our readers."
Premiere Designers is happy to share that "The new magazine has been a natural extension of what our visitors want and also allows luxury brands to take advantage of our huge numbers of hits and and the interest that affluent consumers are showing in our site. Luxury brands can easily get the exposure they want by advertising in the new Premiere Designers Magazine."
# # #