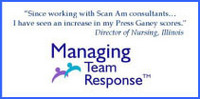 "Providing this forum is simply a continuation of our long-term commitment to our customers, meeting their needs with top quality products, services, and support."
Algonquin, IL (PRWEB) May 20, 2010
Scan Am Company of Algonquin, Illinois, will be hosting a Patient Safety and Patient Satisfaction Conference June 4th 2010. Expert speakers will discuss improving communications between caregivers, patients, and families. Enhancing safety precautions and team awareness will also be highlighted.
Jeannie Conway, RN, BA, Chair of Measurement and Patient Satisfaction at St. Alexius Medical Center, a Chicagoland patient satisfaction scores leader, will be one of the featured speakers. Processes for managing and promoting better Press Ganey and HCAHPS scoring will be emphasized.
Additionally, Scan Am Company will provide an introduction to Managing Team Response™ . The Managing Team Response™ suite of products and services are an innovative and comprehensive approach for resolving some of the most important issues that effect quality of care and patient satisfaction. Conference will be held in Oakbrook, IL, on Friday June 4th, 2010, from 11:30 to 4:00. For more information visit http://www.scanamco.com, email info(at)scanamco(dot)com or call 800-366-2368 and ask for Noel.
"Critical communications have been the core of our business since its inception in 1959. Now, 50 years later, communication issues are more important than ever, especially in healthcare facilities. Our products are a response to the need to get the right information to the right people at the right time." stated Dan Sheldon, President and CEO of Scan Am Company. "Providing this forum is simply a continuation of our long-term commitment to our customers, meeting their needs with top quality products, services, and support."
Scan Am Company is located at 1320 Chase Street, Algonquin, IL, 60102. For more information about the company and their services, visit http://www.scanamco.com or call 800-366-2368.
# # #