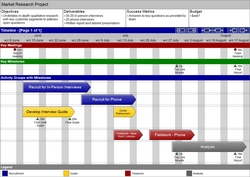 As a company, we are committed to being a responsible member of our local and global communities, and in 2010 we will be donating one percent of our software revenues to these two causes, whose goals and activities we admire
(PRWEB) May 11, 2010
The marketing and brand managers, operations and planning managers, management consultants and business executives that buy Swiftlight software to manage projects and navigate their way ahead are now helping to save lives and clean up the planet.
Torridon Solutions today announced that it will donate one percent of Swiftlight sales in 2010 to Project Kaisei and Doctors Without Borders.
Project Kaisei is a non-profit dedicated to researching and finding a way to clean up the "Plastic Vortex," the garbage patch that collects human-produced plastic and other debris in the North Pacific Subtropical Convergence Zone, about 1,000 miles off the coast of California.
Doctors Without Borders/Médecins Sans Frontières(MSF) is an international medical humanitarian organization, created by doctors and journalists, that today provides emergency aid in more than 60 countries to people whose survival is threatened by violence, neglect, or catastrophe, primarily due to armed conflict, epidemics, malnutrition, exclusion from health care or natural disasters. In 1999, MSF was awarded the Nobel Peace Prize.
"As a company, we are committed to being a responsible member of our local and global communities, and in 2010 we will be donating one percent of our software revenues to these two causes, whose goals and activities we admire," said Peter McWhinnie, chief executive officer of Torridon.
About Swiftlight
Swiftlight is a project management software application that saves time, creates clarity and gets results for its users. It offers a planning structure, high quality visuals and outstanding ease of use. Created to meet the needs of a broad range of general managers, executives and consultants, rather than just project management experts, Swiftlight is particularly well-suited to planning and progress reporting for "smaller scale" or "less complex" projects.
For general managers who find Microsoft Project too complex, and Excel and PowerPoint very time-consuming, Swiftlight can quickly generate clear, presentation-ready plans and progress reports for initiatives such as product launches, strategy reviews, operational improvement initiatives or annual planning.
For specialist project managers with larger IT, engineering or R&D projects, Swiftlight makes it easy to articulate and visualize "the big picture," with outputs that can capture timelines, objectives, deliverables and measures of success all on one page. Swiftlight also provides links to MS Project to simplify project reporting.
For more information, watch the video overview or review the product details on the Swiftlight website.
Swiftlight is designed for desktop and laptop computers configured with Microsoft Windows 7, Vista or XP. A single user license is $299. Customers may click here to purchase Swiftlight.
A 30 day free trial of Swiftlight is also available here.
About Torridon:
Founded in 2005 and privately held, operating from London as Torridon Solutions Ltd. and from New York as Torridon Solutions Inc., the mission of Torridon Solutions is to make life easier for managers and the companies they work for by designing, creating and distributing practical and innovative software for the world of planning, project management and management communication. Torridon Solutions has customers in 17 countries, predominantly in North America and Europe.
###