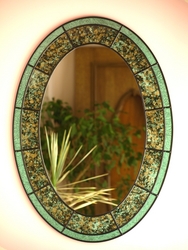 "Many people tell us how thrilled they are to be able order a custom mirror made to their design.
Albion, PA (PRWEB) May 3, 2010
J & L Mirrors has released 15 new glass colors. Now customers have 76 beautiful colors to choose from when designing a custom mirror.
The new colors include 4 solid colors Brandywine, Sage, Pine Green and Frost. Double colors include; Silver/Bronze or Bright Silver/Bronze, Silver/Aqua, Silver/Antique Brass, Bronze/Sage, Bronze/Aqua, and Bronze/Copper. Tri-Colors include; Silver/Bronze/Copper, Bronze/Sage/Copper and Silver/Bronze/Aqua. There is also a Duo-Bronze mix with Brandywine and a Duo-Silver mix with Brandywine. All 76 glass colors can be viewed at http://www.jlmirrors.com
J & L Mirrors colorizes clear architectural glass through a coating process they developed in 2003. This process allows for even multiple layers of color to be applied to the textured side of the art glass which brings out the textures three dimensional qualities as it is viewed through the glass's reverse surface.
At their website, customers can completely design their own mirrors remarked co-owner Laurie Goetzinger. "It really is a revolutionary idea. Think about it, we give them total design control from size and shape of the mirror to glass colors and glass design & pattern. We have actually had quite a few people send us drawings or pictures of mirrors and we have created a finished product exactly the way they wanted it."
J & L Mirrors of Albion Pa. has been creating and manufacturing glass framed mirrors since 2004. The inspiration to create unique art mirrors came from their experience in the interior design field. "People want to create spaces that are uniquely them," remarked Laurie. "In so doing, not only do they create an environment in which they find peace and comfort but one that shows their singular personality & tastes."
Jim Goetzinger co-owner of J & L Mirrors knows first hand how important it is to be able to offer your customer a service that is personal and special. "Many times people have told us how thrilled they are to be able to get a custom product that fills their design expectations perfectly. One customer told me that she had been searching the internet for 4 days to find a mirror to fit a very specific need. She told me she had just had her bathroom remodeled and the tile back splash over the vanity was very high. Since she was a short woman she needed a mirror that she would not only be able to see herself in, but that would fit the space in her new bathroom. After going back and forth with various designs we came up with a mirror that tied in with her bathroom design perfectly and she was thrilled with the finished product," said Jim.
J & L's Mirrors aren't only beautiful to look at, but are as easy to hang as a picture. "We experimented a lot with the hanging process and decided on a product that adheres right to the mirror itself," said Jim. Felt pads protect the wall and keep the mirror in alignment and a felt guard protects the mirror from being scratched during hanging.
Visit J & L Mirrors website at: http://www.jlmirrors.com. to view their beautiful luminescent art glass mirrors.
Call and place your mirror order by phone and receive a 25% discount when you mention this ad. Offer good until 7-01-2010
###