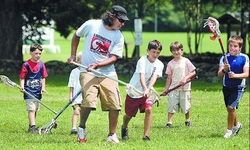 "I just had some blank stares yesterday when I asked if anybody had heard of the Iroquois and the history behind lacrosse," Bomberry said.
Newport, RI (PRWEB) May 24, 2010
Sid Smith and Cody Jamieson of the national champion men's team from Syracuse University, along with Craig Point of the National Lacrosse League's Rochester Knighthawks, will make the trip down from Ontario, Canada. The three of them — along with Cam Bomberry, the head coach for the Iroquois National Lacrosse team — will spend the week teaching local players about the game that not only has been a significant part of their lives, but is part of their heritage.
2010 Lacrosse Opportunities-more details online-http://beachdogslax.com
SUMMER LEAGUE
June 16 - August 18th.
YOUTH LEAGUE - BOYS GRADES 3-8
Mondays - 5pm - 6:30pm
Designed for up and coming third graders to up and coming 8th graders
Runs June 14th to August 16th
Sessions are broken out into 30 minutes of instruction and 60 minutes controlled scrimmage.
Divisions will be divided into grades 3-5 and grades 6-8
Limited number of opening - first come first serve
HIGH SCHOOL MEN & WOMEN
THURSDAYS - 6-8
For up and coming 9th graders to up and coming seniors -
recent HS grads will play in the College Plus Division.
OPEN DIVISION -- COLLEGE PLUS DIVISIONS - MEN AND WOMEN
WEDNESDAYS- 6-8
Up and coming College Freshmen and up - No age limit - all are welcome to play.
Girls and boys Summer Camp Opportunities...
GIRLS/Ladies - JULY 5-9 - - click here for Ladies information
BOYS/Men - AUGUST 2 - 6 - click here for Mens information
Camps for Boys and girls, men and women - Kindergarden thru 12th grade.
The 2010 Ladies camp will be July 5-9 and BoysBeach Dogs Lacrosse Camp will be August 2-6 at the Glen Farm in Portsmouth RI. The camp is geared for boys grades 1-12. The goals of the camp, which is available to players of all skill levels from grades 1-12, according to Beach Dogs camp director Marshall Huggins, is to make sure players received on-field instruction from some pretty well known players, and gain a greater understanding of the game by learning its history. "The sport, for us here, is a relatively new sport. But for these guys, it goes back generations," Huggins said.
"One of the main reasons the Beach Dogs and Iroquois Lacrosse Programs partnered is to focus a lot on the tradition and history of the sport, and also give parents the opportunity to learn about it, the roots of where it came from." Lacrosse is believed to be the oldest team sport in North America and is rooted in Native American religion, according to US Lacrosse, the sport's national governing body. Of course, from a kid's perspective, the most entertaining part of the camp probably was watching three top-notch players fling the ball around and fire shots on goal in excess of 100 mph.
Those attending the 2009 Beach Dogs lacrosse Camp represented quite a range of skills. Huggins said about 100 kids attended the camp, and in his estimation, about 20 percent of them were just getting started. "We have young kids, but I also have ninth- and 10th-graders in their first year playing, which is amazing," Huggins said. "And they're really doing well." Working with these rookies, Jamieson said, has been the best part of the camp. He said in some ways, believe it or not, he can relate to the disappointment newcomers can experience when trying to grasp certain skills. "I think the most fun part is working with the kids who aren't that experienced, just because they're still having fun and still getting the frustration," he said. "I like that, because I still get the frustration when I can't do something. "I like helping everybody out, and I like seeing the smile on their face after they pick up their first ball or score their first goal." A lot of the kids Jamieson and Smith met this week saw them play last month in the national championships in Foxboro, Mass. And many of them were on hand to see Jamieson's game-winning goal against Cornell in the title game.
"At the time, I didn't really think I just scored the game-winning goal. It was more of a 'We just won the national championship' type feeling," Jamieson said. "Winning a national championship at that level is something a lot of people can't say they did. And to win it the way we won it, with the guys we won it with … was really special.
"It was a dream come true for everybody involved. It was exciting, every aspect of it." With Smith, who plays defense, Point, a middie, and Jamieson, who plays attack, the camp's guests had nearly every aspect of the game covered. And the kids hung on their every word. "We have a little bit of every part of the game going on," Point said. "I just came here and tried to teach them all the knowledge that I have." In doing so, Point and his fellow Iroquois are aiding in the continued growth of the sport their ancestors created. "I never imagined I'd find myself here in Rhode Island doing a lacrosse camp," Smith said. "It's awesome to be out here and help the growth of the sport."
This years lacrosse camp is sponsored by Lax City, http://laxcity.com and Bagadowe Sports, http://bagadowe.com.
###