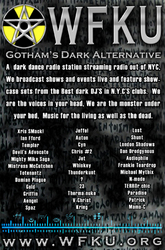 New York, NY (PRWEB) May 21, 2010
WFKU is offering Premium Membership Subscriptions for a one time charge of $25. This Membership gives users access to exclusive features of WFKU. "Sets on Demand" allows Listeners to hear their favorite DJ sets whenever they want. Click on any DJ profile, pick a set, and it will start streaming. It's Easily Navigable. Skip unfavorable songs or replay appealing ones. This service will be offered for free until June 20th. Come June 21st "Sets on demand" will only be available to Premium Members.
In addition to broadcasting a variety of concerts and club events around New York City, WFKU has started broadcasting 2 live shows from WFKU studios.
The First is 225 HZ which runs from 8:00 PM to 12:00 AM on Tuesday evenings. DJ's Cliff Cage, Dvls Advct, and Whiskey, bring you the newest classic industrial, synthpop, electro, techno, and whatever else the black heart desires. Taking Calls live on the air, discussing recent events, and announcing upcoming parties and concerts from the New York Area. Email 225hz(at)wfku.org to submit event announcements.
The Second Show features DJ's Eros and Hell-kitten bringing the best death-rock rockabilly and psychobilly classics every other Thursday from 9:00 to 11:00 PM This Raucous show brings a more easy going energy to WFKU's very dark programming.
WFKU also now streams instantly upon connecting to the website. No need to link to winamp or itunes. Go to the site on the browser of choice and it will play. WFKU has built Chatrooms, forums, profiles and a store for exclusive WFKU merchandise, and brought more top quality DJ's.
WFKU has not stopped bringing you the best live bands from the stimulate party, or Death Rocking your socks off from The Red Party. As well as Special events from all around the NYC area.
For all inquiries contact
Jacob Bouchard
whiskey(at)wfku(dot)org
Studio line # 347 663 5043
http://www.WFKU.org
###