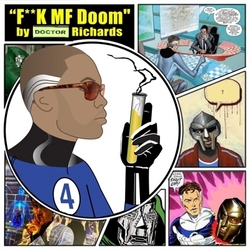 It's time to overthrow the current regime. Doombots? That's preposterous!
Long Island City, NY (PRWEB) April 30, 2010
Marking the beginning in a series of projects that reveal a refreshing perspective on hip-hop music. Fresh Dough Made Daily, a boutique music group, unleashes the sonic ire of the genius Reed Richards (of Fantastic Four fame). He appears on this mp3 single simply enough as Doctor Richards. The song is a direct shot at the Madvillain now only known as DOOM. And, Doctor Richards feels he is well within his right to do so.
Doctor Reed Richards and DOOM have long been arch enemies and rivals. Having met in their college days, Reed was the one who informed DOOM (known then as Victor) of his faulty calculations. When the experiment went awry, DOOM disfigured his face. "I want to dispel all the heresay. We've all been tolerant of his villainous ways because the music was amusing, at best. But stealing fans money is going too far! I'm coming for blood," says Doctor Richards.
Doctor Richards says, "It's all in the lyrics," and gave an interesting parting shot. "It's not about fame, or trying to advance via diss. It's about balance and an alternate frame of reference. There is a pecking and social order in place, and the antics are stunting growth," states Doctor Richards. "Him and many others are actually blocking progress in hip-hop."
He also promises the vocals will be available on iTunes for remix purposes. A Fresh Doe Made Daily sponsored contest, $1,000 goes to the beatsmith who makes the best remix mash-up.
The L.I.U. Khalfani, a member of the Fresh Dough Made Daily creative collective, had this to say about Doctor Richards' rants. "While I don't completely agree with Doc's methods, I do understand his plight."
The L.I.U. chimes. "I am a casual listener of the artists he lambasts, and, I also recognize he is a poignant lyricist himself. There is room for it all. Altering views are healthy. I like the discussion he's starting."
DOOM, his representatives, nor any of his DOOMBOTS, had a comment prepared by press time.
###