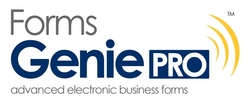 St. Catharines, Ontario (PRWEB) May 9, 2010
Convergent Telecom Inc. today announced that the company has been approved for Federal Government Funding to help the company further develop their emerging BlackBerry Application Software Practice across North America.
"This funding will accelerate our timelines to help us meet our goal of becoming a leading Mobile Application developer and reseller of business productivity software," said Roland Bissell, President of Convergent Telecom. "We are the exclusive Distributor for MileageGeniePro and FormsGeniePro for BlackBerry, two new 'Software as a Service' solutions for business customers across North America. The funding will help us grow our business locally, while also allowing us to extend our online presence globally," reported Bissell.
St. Catharines Member of Parliament Rick Dykstra reported "we are very pleased to announce that Convergent Telecom Inc. will receive a boost from the federal government, through the Community Adjustment Fund, to help the company introduce new software for Blackberry users across North America. Companies like Convergent are wonderful examples of the types of knowledge based industries our community needs to have going forward," said Dykstra. "Our government recognizes this and is proud to support their innovation and growth"
About MileageGeniePro - MileageGeniePro tracks time, travel and incidental expenses throughout the day by using BlackBerry GPS and the MileageGenie client software on your BlackBerry Smart Phone. Users set up the time of day and day of week they want to track their travel (for example: 8:00 AM to 6:00 PM weekdays) and MileageGenie sends the location tracking information to the http://www.MileageGeniePro.com portal. MileageGeniePro subscribers are able to go online and generate reports, review and enter customer visits, and consolidate monthly time, travel, and incidental expense tracking and reporting.
About FormsGeniePro - FormsGeniePro is a data collection tool for BlackBerry Smart Phones that takes paper forms and turns them into electronic forms. No more re-keying of data collected by the field force. The most amazing thing is that FormsGeniePro adapts to YOUR needs and requirements instead of you having to adapt to the technology. You can attach GPS coordinates and photo's to your forms or you can use it as a counting tool or survey tool. The FormsGeniePro online template editor allows users to develop Forms, Surveys, or Counting Templates and then distribute them to one or many company wide simultaneously. The data collected by the field force is then consolidated online for access to real time reporting.
Download and try MyMileageGenie for BlackBerry free for 14 days at: http://www.convergewireless.com/mmg-sms/
Try MileageGeniePro FREE for 14 days by signing up at http://www.MileageGeniePro.com .
Download and try MyFormsGenie for BlackBerry free for 14 days at: http://www.convergewireless.com/mfg-sms/
Try FormsGeniePro FREE for 14 days by signing up at http://www.FormsGeniePro.com .
About Convergent Telecom Inc.
Convergent Telecom Inc. was founded in 1998 as a business to business distributor for Bell Canada Wireline Services, and Bell Mobility Wireless. Convergent Telecom links complex technology to business including BlackBerry Smart phones, ERP & Co-location Solutions, along with Wide Area Networking and voice over IP. Our goal is to help you do more with less.
Trademark statement:
All brands and trademarks mentioned in this press release are the property of their respective owners. MyFormsGenie, MyMileageGenie, FormsGeniePro and MileageGeniePro are trademarks of ConvergeWireless Inc./Convergent Telecom Inc. BlackBerry is a trademark of Research In Motion Limited.
Convergent Telecom Inc.
Roland Bissell - President
132 king Street
St. Catharines, Ontario L2R 3J3
V 905-708-0077
TF 1-877-398-7230
Cell 905-328-1954
###