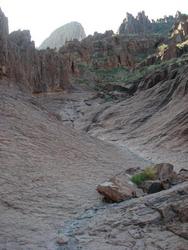 This is the search engine of the wilderness!
Phoenix, AZ (PRWEB) May 17, 2010
In the past everyone had to hike to a summit to find its GPS coordinates, or drive to the trailhead to mark the coordinates. Not anymore! Millions of Free GPS Waypoints. Zoom in close on the topo map to find the prominent summit, trailhead, spring, or waterfall near a desired weekend outdoor destination and click on it to view the latitude, longitude, and elevation. There are over 60 different types of waypoints and POI's from wilderness mines to city destinations. Hikers, hunters, survivalists , treasure hunters, and weekend adventures will benefit from this simple to use website.
Before adventurers step outside the front door to trek into the barren wilderness they now have a tool to help them prepare in advance. "This is the search engine of the wilderness!" says Lonne Osborn, President and CEO of NetSoft Technologies, Inc., owner of the WhatsBy.com website. "This is going to change the GPS landscape and the way GPS enthusiasts plan their outdoor adventures. Soon WhatsBy.com will provide location awareness for handheld devices, as well as GPS coordinates of prominent spots all over the world."
The website allows people to prepare for their outdoor trek by pre-marking important coordinates of prominent POI's into their GPS before ever stepping outside the door. Survivalists can mark the waypoints for several springs into their GPS, in case one spring is dry. Weekend adventurers can find out what else is near by that summit they are going to ascend, say a very desired waterfall or water hole. Hunters can now scout out their hunt terrain for water tanks and benches.
"This site is just a starting point. WhatsBy.com recommends an adventurer to be well versed with map, compass, and navigational skills and never depend 100% on only a GPS device. Always carry an extra GPS device, plenty of extra batteries, and most importantly, a map, a compass, and a general idea in mind of the layout of the land. Getting lost is only a dead battery and unthought out walk away. My very own GPS broke on a cross country 16 mile hike a few years ago and there is nothing more scary than feeling like one bet their own life on a single electronic device without proper map studies and preparation."
Millions of Free GPS Waypoints are currently only available for prominent landmarks in the U.S, including Alaska and Hawaii.
Photo Copyright (C) 2010 Cassie Stevens
###