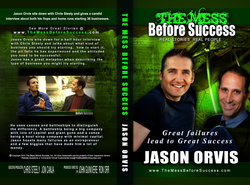 Las Vegas, NV (PRWEB) May 11, 2010
A brand new start-up has gone from zero to 80MPH in only 60 days! The Mess Before Success (TMBS) is an incredible video series just launched on DVD and online at http://www.TheMessBeforeSuccess.com . Each interview is packed with stories from successful entrepreneurs telling you what went wrong on their way to success. The no holds barred format allows watchers a chance to learn before they get burned making the same mistakes on their own. With 25 amazing interviews already filmed and several dozen lined up, the company itself is definitely poised for success.
"In one day of filming, the word got out about our idea, and all of a sudden we had more superstars wanting to be interviewed than we could accommodate!" said Chris Steely - one of the founders of TMBS and one of their online personalities.
Each video includes a candid interview with some of the world's most successful entrepreneurs telling their raw stories of went wrong on their way to the top! The Mess Before Success offers incredible online videos streamed in HD using a pay per view model of only $5 each, (Video Catalog) as well as DVD sets available on their site.
These powerful stories are every bit as informative as they are truly riveting. Surprisingly, most successful people are more than willing to tell others how bad things have been in their lives. All successful people have these experiences to share, and they also know how to build on these messes, to create success.
Within the first week of filming, some of the world's top speakers and business leaders sat down and let it all out; including Berny Dohrmann, Les Brown, and Jason Orvis - to name but a few. Many of these folks have kept their stories of struggle to themselves, and have never given others the opportunity to learn from their messes before success, until now.
Though many executives and entrepreneurs have already lined up to share their stories, The Mess Before Success allows people to apply to be interviewed by completing a questionnaire on their website http://themessbeforesuccess.com/we_want_you.html. This has already generated several new interviews, including one with Kary Rogney, who is launching Tribe Syndication For Blogging Movement. Rogney is a school teacher gone social media guru, who tells an enlightening story of how he went into $30K worth of debt by getting entangled into a multi-level-marketing scheme, and how he got out of that situation to built on that experience.
What's your Mess Before Success?
Company information:
The Mess Before Success, LLC is a company that's focused on business excellence, leveraging the challenges and learning experiences of the world's most successful business leaders. Founded in 2009, The Mess Before Success' mission is to foster and inspire business success, through real life stories, as told directly by the experts themselves.
Contact:
Chris Steely
Founder
The Mess Before Success, LLC
Phone: +1 702 327 9545
Email: Chris@TheMessBeforeSuccess.com
# # #