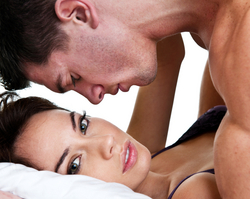 When hunters come in contact with a moving object, they automatically ask themselves three questions: Do I defend myself from it? Can I have it for dinner? Or do I steal it away from its partner and mate with it?
New York, NY (PRWEB) May 20, 2010
Relationship coach Jenna Brett Ashley conducted an online survey of men in committed relationships and asked them why they were inspired to commit to their mates. Ironically, many responded that they were not prodded into fidelity by their girlfriends, but rather it was they themselves who desired and initiated the commitment.
According to relationship coach Jenna Brett Ashley, the thing that women most often forget about men they're attracted to is their anthropology - the origin of their physical and cultural development - and that men's anthropology is a history of hunting. When hunters come in contact with a moving object, they automatically ask themselves three questions: Do I defend myself from it? Can I have it for dinner? Or do I steal it away from its partner and mate with it?
What emerged from the survey were some common themes about men's dating behavior and attitudes that are not unlike a hunter's ethos who wants both the prey and someone who enjoys the hunt, too.
Why He Committed Reason #1. "She's playful and mysterious."
The temptation for many women is to be really nice to a guy they find super attractive. This makes them seem easily available to him. They overload him with compliments, initiate contact too frequently, and perform unsolicited favors. As a result, he's thinking what a great big sister you could have been, not the woman of his dreams he can't wait to meet and still eludes him. If you're a hunter, being always available makes you a low value target easily attainable. If you have a playful , teasing but reserved and slightly challenging demeanor, he will be forced to consider what else awaits from this high value target. Justin writes of his wife, "When we met, she immediately struck me as fun and opinionated, not a doormat type at all. I respected that and was turned on at the same time."
Why He Committed Reason #2 "She's more fun to hang out with than if I were alone."
If a guy has more fun when he's with you than when he's not , then you are more like part of his pack than another competing predator from which he must defend himself, or worse, eliminate. Darin noted that "I have no problem being alone, so I had no real reason to commit to anyone longer than six weeks. My girlfriend Cheryl made me laugh when other relationships in the past became a cause of stress."
Why He Committed Reason #3 "She has other interests that don't include me and gives me space."
When a girl has other interests besides him, her absence gives him time and space from what he perceives as the frolicking "play time" you spend together. This creates an opportunity to miss you, crave you and distinguish you from other potential pack playmates. Aaron compared the "neediness" of past girlfriends to his now wife by noting how he doesn't feel the pressure to "perform or be something he isn't" because she has other interests beyond their relationship. He simply "appreciates her more" when she's doing something else, and knows he's not "responsible for her happiness" entirely.
Why He Committed Reason #4. "She communicates what she wants from me in a non-judgmental way giving me options and doesn't cast blame."
Would a fellow hunter be very helpful in hunter world if she was always focusing on what she didn't like instead of what she did? Constant nagging will not create the emotional connection you're both seeking. His hunter's ego can't handle it. Emotional honesty and vulnerability will lead to a new understanding and mutual respect. He sees his mate more like a partner that he can soar along with in the open plains instead of a liability on an uncertain road. Conner said that his partner Adelle had "a way of conveying to him how disappointed she was by certain things calmly and non judgmentally offering alternatives instead of making random negative comments or blowing up" on him like girlfriends of old.
Why He Committed Reason #5. "She makes me feel like I'm the one that's lucky to be with her."
Over and over again, respondents of the survey pointed out that after having met their future mates, they thought she was "the coolest girl in the world." When prompted to elaborate many guys said that aside from being independent, playful, and not a constant complainer, she possessed an air of "casual confidence" that they found irresistible and made them want her forever on "their side." If from a hunting perspective, you expect danger and obstacles to overcome every day, don't you want a solid member on your team that adds value to your mission instead of diminishing it?
Whether or not guys truly initiated the commitment or just think they did, it's clear that the results of the survey indicate that it is the huntress looking for a devotee who can be the primal factor in creating the conditions for lasting commitment. For guys, such devotion is the natural outcome of the "Cool Girl Effect" - Playful, Fun, Mysterious, a Healthy Challenge, Space as Needed, Openness, Mutual Understanding and Respect.
Jenna Brett Ashley is a rapid results relationship advisor in New York City and is the author of the smash eBook, "How to Give Head in Five Steps."
# # #