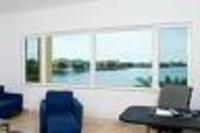 In addition to reduction of energy costs, many insurance companies also offer a discount when people have impact-resistant products installed in their home.
Parkersburg, WV (Vocus) May 22, 2010
Batteries and flashlights, check. Emergency food supplies, check. Windows? Time to double check!
People with primary or secondary homes in coastal areas prone to severe weather should make certain to thoroughly check the condition of their windows prior to the start of Hurricane Season 2010 on June 1st. As part of Hurricane Preparedness Week from May 23 to May 29th, the experts at Simonton Windows® recommend homeowners check the functionality and security of all their windows and doors.
"After any high wind event, and before the start of every hurricane season, homeowners should carefully examine their windows to make certain they're still extremely functional and that high flying debris hasn't caused damage their windows," says Rebecca Taylor with Simonton Windows. "Even impact-resistant windows, made especially to handle high winds and storm conditions, should be checked prior to the start of hurricane season to make sure they're ready for the next storm."
Taylor recommends that homeowners in hurricane-prone areas strongly consider investing in impact-resistant windows to help protect their homes and property. "The insulating glass unit in Simonton StormBreaker Plus® windows features impact-resistant laminated glass, which consists of a durable interlayer sandwiched between two pieces of glass, along with an outer layer of tempered glass," says Taylor. "This high-performance laminated glass is designed to resist strong winds and penetration from windborne debris that can jeopardize a home and its contents during a high-wind event, such as a hurricane. Even if the outer layer of tempered glass is shattered, the tough interlayer won't be compromised—reducing the possibility of injury or damage."
Approved to the High Velocity Hurricane Zone (HVHA) certification through the American Architectural Manufacturers Association (AAMA) and the Florida Building Commission to withstand flying debris during severe storms, Simonton StormBreaker Plus windows and doors work 24/7 and never need to be boarded up or shuttered. The windows are also tested in compliance with the windborne debris standards adopted in the International Residential Building Code, and the Florida Building code, ensuring the product is in compliance with all windborne debris regions of the country including the Florida coast, the gulf coast and the east coast, and is recognized by the Texas Department of Insurance windstorm inspection program.
"There's a great deal of testing involved in these windows because they're so important in helping keep a home secure during severe weather," says Taylor. "At our testing facilities, we conduct impact, structural pressure and water infiltration testing on our Simonton StormBreaker Plus products, subjecting them to extreme weather conditions. We simulate the effects of severe storms on the windows to ensure they'll help protect a home."
In addition to protection from severe weather, StormBreaker Plus windows and doors offer superior energy efficiency benefits to homeowners, helping reduce energy bills. The windows and doors also reduce noise infiltration from the exterior of the home along with solar penetration. Burglary attempts are also deterred by the impact-resistancy of the durable windows and doors.
"These top-of-the-line windows and doors really help protect the home while saving people money," says Taylor. "In addition to reduction of energy costs, many insurance companies also offer a discount when people have impact-resistant products installed in their home."
Simonton Windows produces ENERGY STAR® qualified replacement and new construction windows and doors, including a line of impact-resistant products. For the second year in a row, Simonton ranked "Highest in Builder and Remodeler Satisfaction among Residential Window and Patio Door Manufacturers" in the J.D. Power and Associates 2009 Builder and Remodeler Residential Window and Patio Door Satisfaction StudySM. Simonton was also ranked #1 in quality in the 2009, 2007, 2002 and 1998 Brand Use Studies sponsored by Builder magazine and has won three Best-In-Class Awards from Market Research Associates.
Founded in 1946, Simonton's hallmark has been to deliver its made-to-order products in five days or less. Part of the home and security business of Fortune Brands, Inc. (NYSE: FO), Simonton delivers award-winning products nationwide to key markets throughout the 48 continental United States.
For information, call (800) SIMONTON (1-800-746-6686) or visit http://www.simonton.com.
PHOTOGRAPHY: Media members may visit "media.simonton.com" (use password "media") for access to 1,000+ Simonton images.
B-ROLL: For B-roll on testing of Simonton products, contact Marty Davis at 304-420-9219 or Marty_Davis(at)simonton(dot)com.
Simonton Windows received the highest numerical score in the proprietary J.D. Power and Associates 2008-2009 Builder and Remodeler Residential Window and Patio Door Satisfaction Studies.SM 2009 study based on responses from 3,109 builders and remodelers measuring 16 manufacturers. Proprietary study results are based on experiences and perceptions of builders and remodelers surveyed in April-May 2009. Your experiences may vary. Visit jdpower.com
ENERGY STAR is a government program that helps consumers protect the environment through superior energy efficiency and is a registered trademark of the U.S. Department of Energy and the U.S. Environmental Protection Agency.
Testing Background on Simonton StormBreaker Plus Windows:
Impact Tests:

A two-by-four piece of lumber (missile) that's eight-feet long and weighs nine pounds is shot out of an air cannon multiple times at a window or door as part of the impact testing process.
The missile is shot in a specific sequence of hits and locations at the same test window at a rate of 50-feet per second (or 33 mph).
After multiple impacts, the test unit is then subjected to 9,000 cycles of combined positive and negative pressure during eight cycling stages for eight hours replicating hurricane conditions.
Structural Pressure Testing:

Units being tested are securely attached to testing frames and subjected to four stages of pressures (otherwise known as "massive forces").
To pass the Structural Pressure Test, impact-resistant glass in windows and doors may convex out of the frame. However, the glass needs to stay intact within the frame.
Water Infiltration Testing:

Units being tested are secured to the testing frame. Multiple water nozzles spray water at the exterior of the unit from all directions, simulating a severe storm with conditions of approximately eight inches of rain fall per hour.
Positive pressure tries to pull the water through the test unit during the saturation spray process.
To pass the Water Infiltration Test, the impact-resistant glass units must not have any drops of water pass through to the interior plane of the frame, which is often considered the sill dam.
###