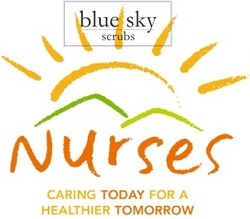 Austin, TX (PRWEB) May 5, 2010
The work of America's 3.1 million registered nurses to save lives and to maintain the health of millions of individuals is the focus of this year's National Nurses Week, celebrated annually May 6-12 throughout the United States. This year, the American Nurses Association (ANA) has selected "Nurses: Caring Today for a Healthier Tomorrow " as the theme for 2010. The ANA supports and encourages National Nurses Week recognition programs through the state and district nurses associations, other specialty nursing organizations, educational facilities, and independent health care companies and institutions.
Annually, National Nurses Week begins on May 6, marked as RN Recognition Day, and ends on May 12, the birthday of Florence Nightingale, founder of nursing as a modern profession. During this week, in celebration of all nurses, blue sky scrubs will be offering a 25% discount on any purchase made during National Nurses Week (discount code nurses25).
In honor of National Nurses Week and RN Recognition Day, registered nurses around the country are encouraged to wear the official "RN Pin." The pin can be purchased by calling 1-800-445-0445. In addition to wearing the RN Pin, nurses will be asked to dress in their nurses uniform on that day.
Traditionally, National Nurses Week is devoted to highlighting the diverse ways in which registered nurses, the largest health care profession, are working to improve health care. From bedside nursing in hospitals and long-term care facilities to the halls of research institutions, state legislatures, and Congress, the depth and breadth of the nursing profession is meeting the expanding health care needs of American society and beyond.
blue sky scrubs™ is dedicated to creating and manufacturing medical scrub apparel that is not only of the highest quality and affordability, but innovatively designed to meet the specific needs of the health care professionals utilizing these products. blue sky scrubs is also committed to using the best materials available to create comfortable, fashionable scrub hats and accessories, and to provide immediate, courteous service to the professionals who choose blue sky scrubs for their medical scrub needs. Give a nurse the timeless gift of blue sky scrubs during National Nurses Week 2010.
###