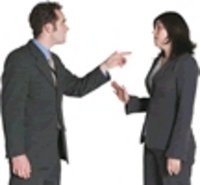 Did you know that a typical manager spends up to 40% of the workweek addressing employee conflict?
Milwaukee, WI (PRWEB) May 11, 2010
Did you know that a typical office manager spends up to 40% of the workweek addressing employee conflict? Conflict Boss, LLC, an online conflict resolution resource for businesses and individuals, strikes a new chord by providing a resource for managers to outsource their company's conflict resolution needs. By outsourcing conflict management duties, managers can save the equivalent of up to two (2) business days a week worth of time that is currently spent dealing with employee conflicts.
Conflict Boss offers a new take on the traditional workplace conflict resolution process, which typically consists of employee contact with Human Resources, management involvement or even an unreported escalating argument between employees. Working predominantly online, Conflict Boss provides employees with an outlet to instant message, email and video conference with conflict resolution consultants. With a confidential, accessible, and reliable employee conflict resolution process available, the weight of conflict resolution can be lifted off the shoulders of Human Resources and Upper Management.
Interestingly, this online conflict resource can come as a welcome relief to many. Without strong training in conflict resolution, many managers are ill equipped to handle the needs of their employees. Managers have an interest in maintaining a loyal staff. Oftentimes, this can be easily accomplished, as many employees just want their concerns to be heard and addressed. Although 60%-80% of all difficulties in organizations stem from strained relationships in the workplace, and not from deficits in individual employee's skill or motivation, organizations continue to have underdeveloped conflict resolution processes in place for their employees.
Conflict Boss addresses employee needs by coaching them through conflict resolution techniques and approaches. Employees will work with a consultant to develop a plan to address their conflict, while also learning new negotiation and communication skills. As an added benefit, employees will now have a confidential feedback mechanism. In turn, upper management receives statistical reports from Conflict Boss that outlines the areas in their organization that are experiencing issues.
A confidential, online conflict resolution method such as this has the power to change the dynamic of any office environment.
Conflict Boss is running a special this month where businesses will receive their first five (5) hours of coaching free, with the purchase of a monthly package.
# # #