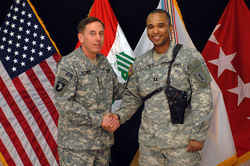 New York City, NY (PRWEB) May 1, 2010
Over the past few years I have had the privilege of interviewing Vietnamese-American United States Army Captain James Van Thach, a Law School graduate from Touro Law Center. He had the option to be admitted to a state bar and apply to join the Judge Advocate General Corp (JAG) as an Attorney in the U.S. Army but chose to become an Infantry officer and volunteered to serve in Iraq as a Military Advisor to the Iraqi Army. His actions led to him being wounded twice during his first year, but he decided to remain in Iraq for an additional year, on modified duty.
He was reassigned to Iraq Assistance Group (IAG) J-4 and was appointed as the Officer in Charge (OIC) of Supply and Services. He worked on projects that improved the capabilities of Military Advisors in order for them to assist in accelerating the transition of security to the Iraqi Security Forces (ISF).
Captain James Van Thach's work on numerous projects that significantly improved the capabilities of the Iraqi Security Forces led him to be selected as the only foreign Officer in Iraq to be awarded the Honorary Iraqi Army rank of Staff Brigadier General on April 15, 2008, by Staff Brigadier General Special Forces Nassir Ahmad Ghanim Al-Ogali, the Brigade Commander of 3rd Brigade 6th Division Iraqi Army.
''Captain James Van Thach was designated a tremendous task: to spearhead a project of building a forward-operations base in Iraq just a few kilometers from the border with Iran.'' It was aimed at improving border security and is part of a broader U.S. effort to stop alleged Iranian support for Iraqi insurgents. The base would be home to U.S. soldiers and Coalition soldiers and provide direct logistical support to soldiers who patrol the border including the equipment needed for a military radio-communications network and surveillance equipment at the outpost. Eventually this will allow border guards to intercept the communications of weapons smugglers.
On November 25, 2007, Captain James Van Thach was awarded the Joint Service Achievement Medal (JSAM) by Brigadier General James C. Yarbrough for his work in establishing the preparation and completion of a United States military base named Combat Outpost Shocker in eastern Iraq on the border facing Iran to assist US Military Advisors working with their Iraqi counterparts to advise them in maintaining, protecting their border checkpoint and combating against infiltration from smuggling and terrorist activities from Iran.
His Joint Service Achievement Medal citation reads:
Captain James Van Thach, United States Army, distinguished himself by meritorious achievement as the J4 Contracting Officer, Iraq Assistance Group, Multi-National Corps-Iraq, Baghdad, Iraq, from 8 August to 15 November 2007 during Operation Iraqi Freedom . Industrious, energetic, and meticulous, Captain Thach is an exceptional organizer and leader. In support of the Commanding General, Multi-National Corps Iraq (MNCI) intent of forward basing Department of Borders Enforcement (DBE) Transition Teams, Captain Thach spear-headed the construction of a new Life Support Area (LSA) in support of the Point of Entry (POE) at the Zurbatiyah border crossing. He assembled an impressive 33 page, $6.8 million Joint Facilities Utilization Board package and successfully pushed the project through all the hurdles, from the development of a detailed Statement of Work, legal reviews, Request for Quotations, site visits, funding, and final contracting. After the contract was awarded, he monitored the construction progress and made contract modifications and requested additional funding of $1.1 million for expansion of the LSA and additional security requirements. After completion of the contacting cycle, he immediately initiated a Joint Acquisition Review Board (JARB) package to provide Operations & Maintenance services for the newly commissioned LSA, which included all the basic life requirements to enhanced moral requirements. Again, Captain Thach worked the JARB package through all hurdles to gain final approval. His efforts resulted in the successful opening of a new LSA which will enable the DBE Transition Teams to work and advise closely with their Iraqi counterparts and thereby ensuring the 3rd Region DBE will reach TRA 2 more expeditiously. Captain Thach's outstanding efforts single-handedly increased the Transition Team's ability to assist the DBE at the POE and along the border overall and greatly enhanced their ability to interdict accelerants moving throughout this area. Through his accomplishments, Captain James Van Thach reflected credit upon himself, the Multi-National Corps-Iraq, the United States Army, and the Department of Defense.
###