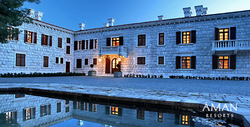 (PRWEB) May 7, 2010
Orlebar Brown have teamed up with Original Travel and Ãmanresorts to offer the chance to win five nights staying at the fabulous Aman Sveti Stefan's Villa Milocer, Montenegro - 2010's hot destination.
This prize includes flights, car hire, bed and breakfast and £500 worth of Orlebar Brown shorts. To enter, simply register your details here.
About the the prize:
In a country famed for its beauty, the most iconic images associated with Montenegro are of the tiny islet named Sveti Stefan overlooked by Villa Milocer, a graceful stone manse set on a pink sand beach.
The former summer residence of Queen Marija Karaorevi, Villa Milocer is phase one of Aman Sveti Stefan, completed in late 2008. Surrounded by more than 800 olive trees, the manse resides on a 32-hectare estate, embraced on three sides by ancient cedar and pine forests. Attached to the coast by a narrow isthmus, the island of Sveti Stefan across the bay was once a fortified fishing village, dating back to the 15th century.
Today, the island is undergoing an exciting transition to become the second phase of Aman Sveti Stefan, which will retain the island's historic air and cluster of sturdy stone buildings with red tiled roofs, cheerful amongst hardy evergreen trees.
###