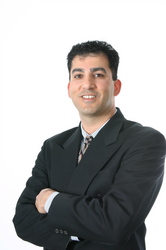 Don't fly solo in this hostile market environment. Join up with a pro.
Boca Raton, FL (PRWEB) May 18, 2010
Options University is pleased to announce the addition of another veteran options trader to the growing faculty.
Peter Zomaya Jr. is a skilled trading professional and recognized as a top instructor in his field. He learned his trading skills from one of the top volume traders on the CBOE (Chicago Board Options Exchange) and since 2000 has taught options trading and risk-management skills to well over 100,000 self-directed traders and investors, showing how floor traders no longer have the advantage they once did.
Mr. Zomaya has created educational programs for other financial firms and has taught in both live as well as online settings around the world and throughout the United States.
He has taught every type of trader and investor from the neophyte to traders that were in themselves floor traders. For years Mr. Zomaya has written live trading publications and has several years of impressive track records showing continuous positive results from the trades selected.
He will be assuming command of the Advanced Live Options Trading Labs (ALOTs) starting in June. The Live Trading Labs have been an incredible success at Options University, especially with the wide swings in volatility we've seen in the market recently.
For example, the Fundamental Live Options Trading Lab (FLOT) is up 24% year to date, which is a 66% annualized return.
Some recent FLOT trades:
DJ Spdr (DIA) up 140% (position still open and may change). On closed DIA positions 67% on $5,000 risked.
Covidien (COV) racked up a staggering 167% return, or $4200.
Monsanto (MOS) returned 123% or $3200 in the model portfolio.
Many of the subscribers to the LTLs are up over $10,000 in recent weeks.
Options University's Chief Strategy Officer, Matthew "Whiz" Buckley, remarked, "With so much volatility in the market make it makes to trade with a wingman and not fly solo. Peter is one of the best and we're proud to have him on board."
Click this link for a test-flight of the Live Trading Lab service. http://www.optionsuniversity.com/live-trading-lab-trial/
Buckley, a former navy fighter pilot, continued, "Flying solo can get you shot down in this hostile environment so join up today. Unless your returns are better than the ones we've been seeing in our LTLs recently, I strongly recommend you give the them a test flight."
Mr. Zomaya will also be overhauling the Options University Member Site and will be launching a new and improved version in the coming months. Buckley said, "Just like the venerable F-4 Phantom was replaced by the F/A-18 Hornet, it's time to update the Member Site to be more lethal than ever. Stand by for more updates."
###